Exciting news Fold Cardholders! We're thrilled to introduce Category Boosts, the latest addition to our Spin+ exclusive Card Boosts feature, going live today on September 29, 2023. This new feature will supercharge your rewards automatically, giving you more ways to stack up to 2% back from your favorite stores when you pay with your Fold Card. Read on to see how you can maximize this new feature and increase your sat stacking potential.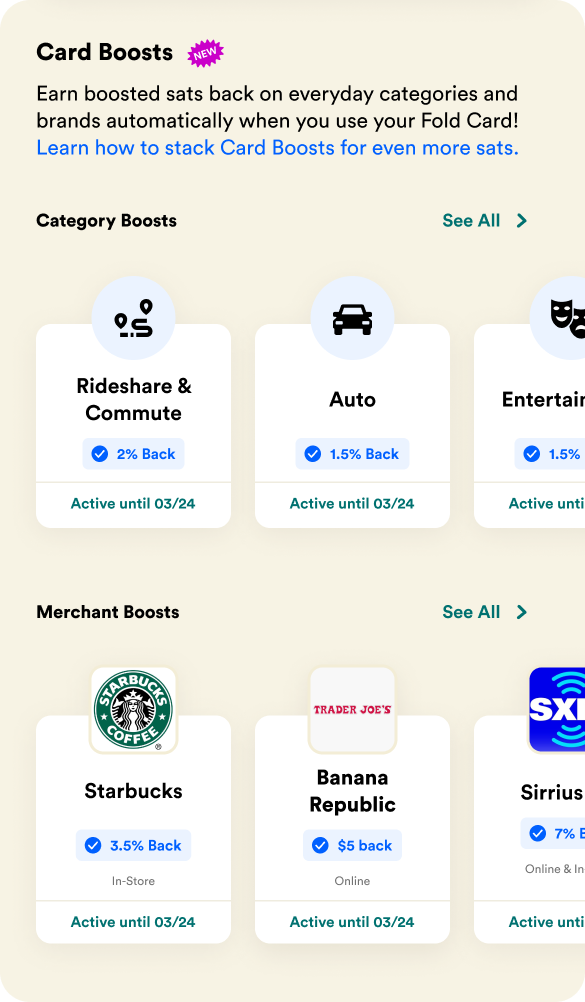 Rotating Categories for Fresh Rewards
Simply put, Category Boosts are automatic increased rewards on certain spend categories for a certain period of time. These can be categories like Travel, Entertainment, Restaurants and Bars, Gas Stations, or Digital Games and Media… the places at which our cardholders like to shop the most. We will regularly rotate out which categories are boosted to keep things exciting and the rewards flowing.

These are the Category Boosts starting today: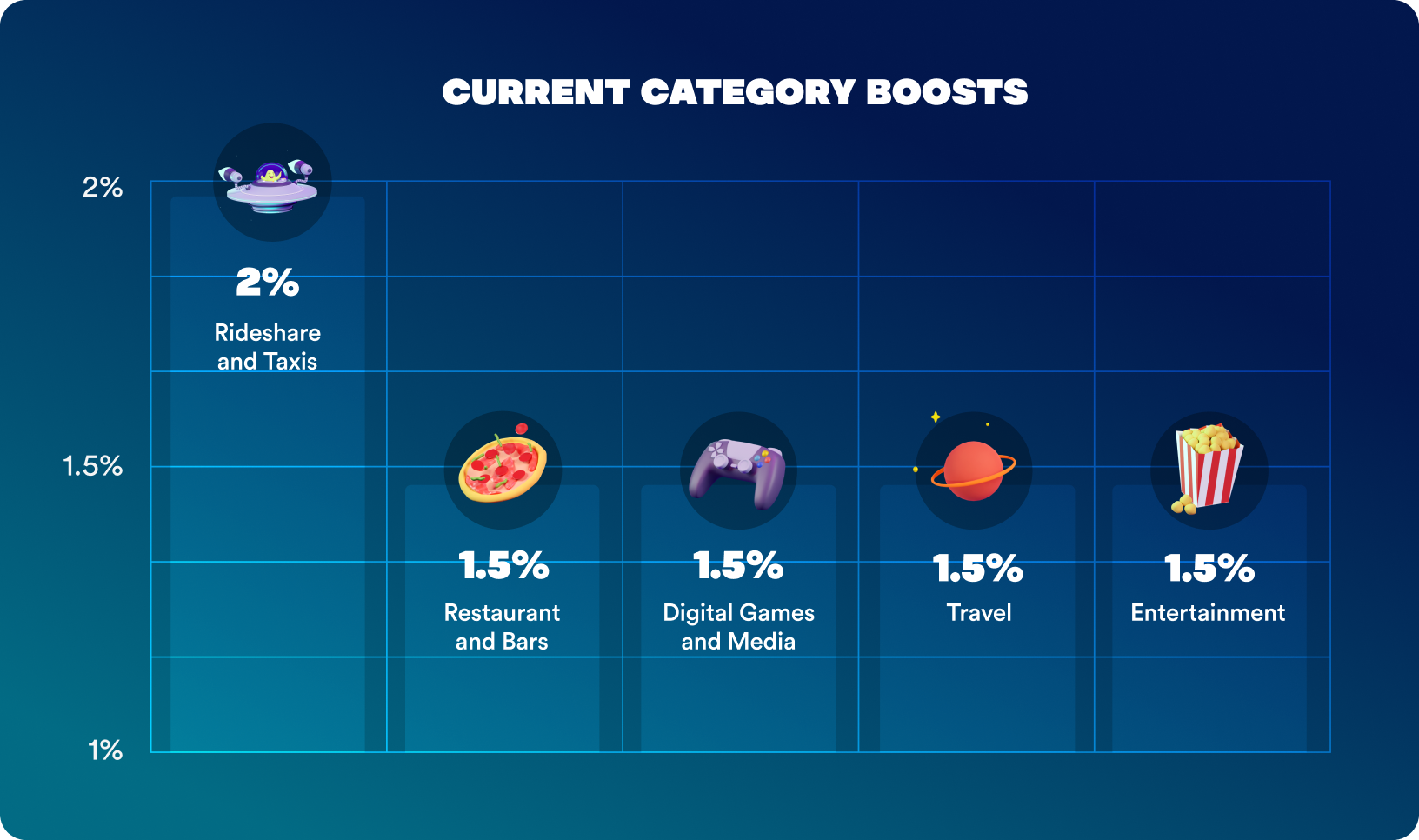 Wait - What are Card Boosts?
Card Boosts is the umbrella term for certain rewards benefits available to Spin+ members. The best way to think of it is kind of like a house. Under the Card Boosts "roof" are features such as Merchant Boosts and the new Category Boosts. Both of these features separately will automatically increase your rewards earned when using your Fold Card. However, when you combine their powers together you can bring your earnings to new heights!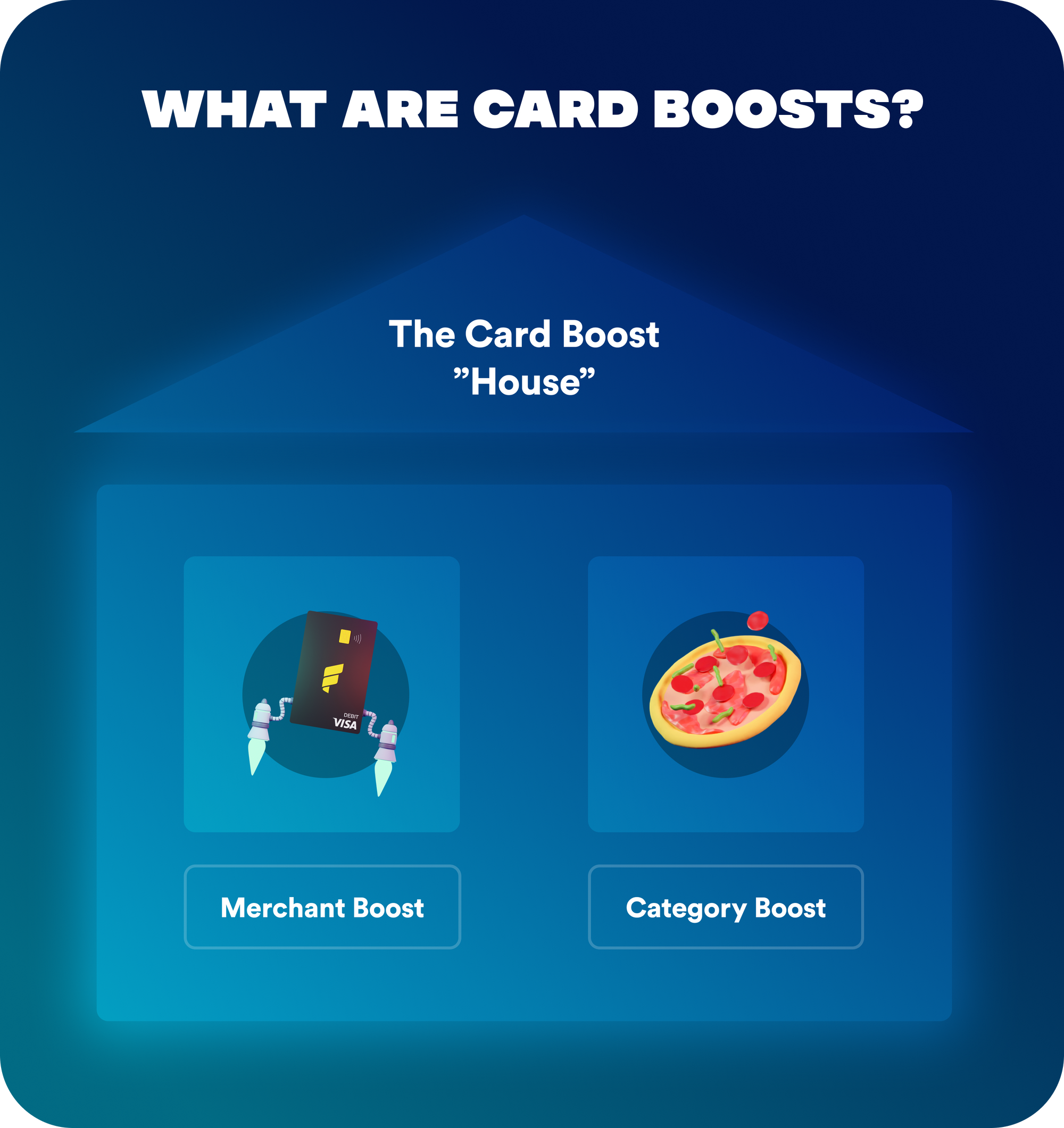 Strategy: Card Boost Combos
The ability to combine Card Boosts is probably one of our favorite features to date, since Card Boosts Combos can create a powerful way to automatically earn more than 1% back on your favorite categories and merchants. The best part? These boosts are pre-activated, requiring no extra steps from you. Simply swipe your Fold card at your favorite merchants and watch the rewards stack up - no activation required.
💡
Pro tip: Combine Merchant and Category Card Boosts on single transactions to increase your overall rewards on your everyday spending.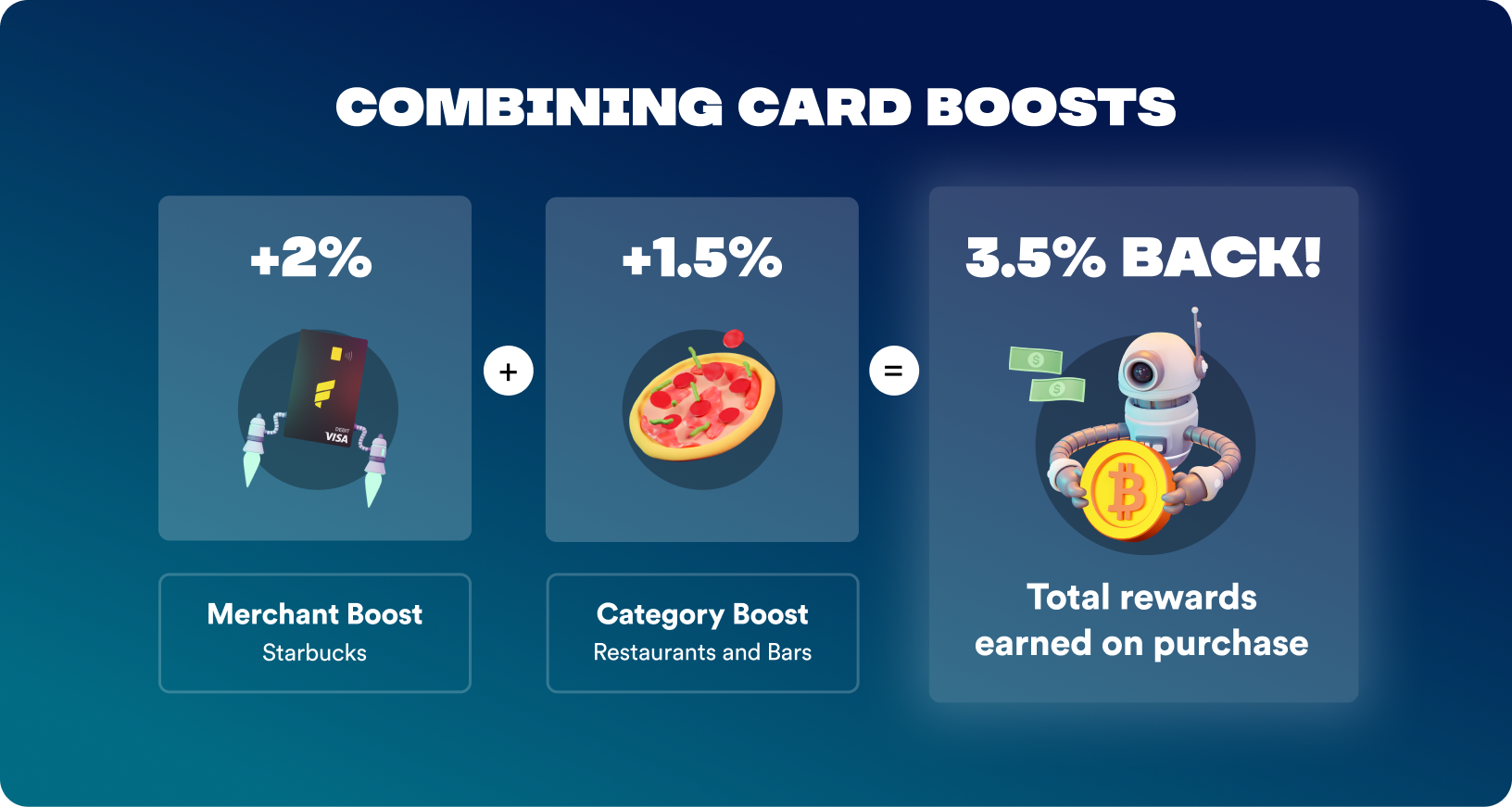 Remember: each Merchant Boost offer has its own redemption details which you can find on the Offers page in the app.
Currently only Spin+ users have exclusive early access to our Card Boosts feature, which includes both Merchant and Category Boosts.
Not Spin+ yet? Or maybe you aren't a Fold Cardholder? That's ok! It's super easy to join this Spin+ Early Access experience and start maximizing your bitcoin rewards. Simply head into the Fold app to get your free Fold Card and join our free Spin tier membership. Then, if you haven't already, upgrade to Spin+ free for one month with our free trial (available to all users who have not used their one free trial). Take a look here for more details between our Spin and Spin+ plans.
We can't wait to see how you max your stack!
The Fold Team