Fold Cardholders can now recover from missed spins or get a "re-do" on purchase spins they're unhappy with.
April 2021 Update: We've added more ways to earn Extra Spins since we originally released this feature! Read on for the basics on Extra Spins.
You may have read one of our recent Early Access community updates where we frequently mention steps we're taking to improve the spinwheel experience. It is 100% an iterative process where we incorporate feedback from our amazing community. We wanted to share a dedicated update on our biggest (and most anticipated) improvement to the cardholder spin experience yet: Extra Spins.
Let's start off with the basics:
🧐 What is an Extra Spin?
Think of extra spins like extra lives in a video game — they give you an extra chance at winning.
These extra spins will let you recover a spin you missed or respin to overwrite a prize you're unhappy with. You can earn extra spins on the post-purchase wheel and we're going to drop 5 extra spins in every Fold Cardholders account to celebrate this release.
We're dropping 5 extra spins in every Fold Cardholders account to celebrate this release. 🎉
Alright, on to the nitty gritty details…
🎡 How Do I Use an Extra Spin?
If you have available extra spins, they will show up next to all eligible transactions in your 'Recent Transaction' list. Transactions made in the last 24 hours are eligible to be respun.
Click the 'spin' button next to the purchase you'd like to use the extra spin on. You'll be asked to confirm you want to use this before being taken to the purchase spinwheel. From there, you'll go to the current purchase wheel to spin and (hopefully) win big!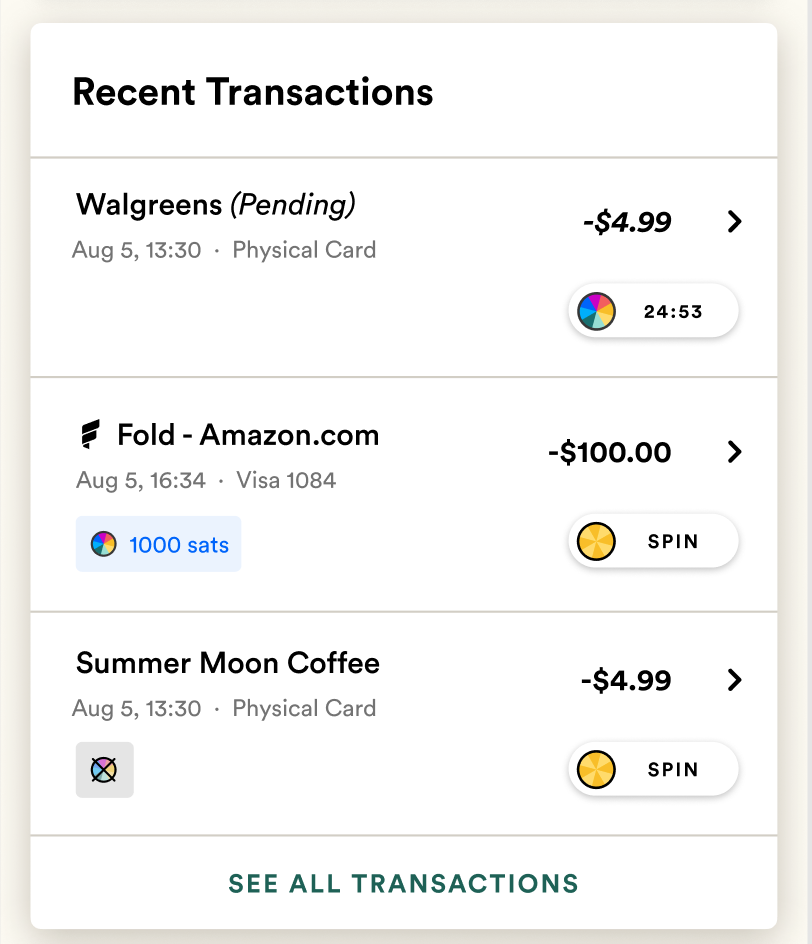 🤑 How Do I Get Extra Spins?
You can earn extra spins two ways:
1. Weekly Drop - Every Friday starting at 12pm ET, we're dropping Extra Spins into your account. Premium cardholders will get 3 extra spins, and Intro cardholders will get 1. If you have push notifications enabled, you'll be notified when these are added.
2. Win them on the Wheel- The spinwheel will include revolving opportunities to win extra spins.
In the future, you may also be able to gift extra spins to other Fold cardholders or buy additional extra spins.
👀 How Do I See My Available Extra Spins?
On your 'Fold Card' tab within the app, you'll see a new section with your extra spins. This block (aka your spin bank) will show you how many extra spins you currently have available for use.
For your extra spin that is set to expire soonest, you'll see a countdown next to it with the remaining days or hours. Don't worry — we'll automagically use the extra spin thats set to expire soonest.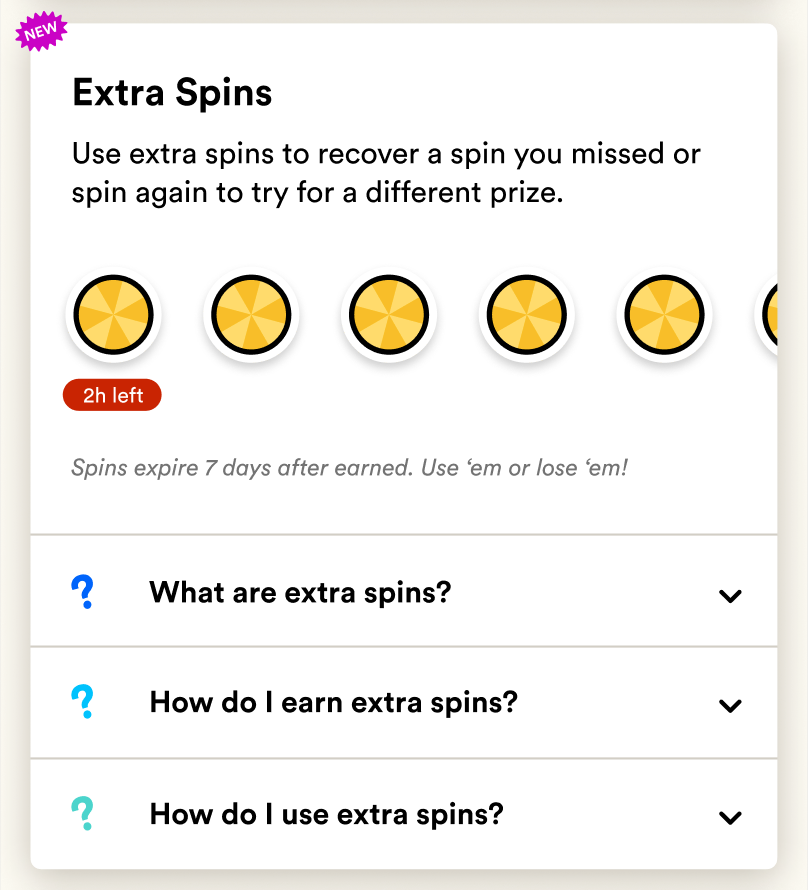 📜 The Fine Print of Extra Spins
If you've read this whole post (kudos to you for getting this far), you've seen a few notes around timing and expirations.
Extra spins expire 7 days from when they are issued.
You can use an extra spin on eligible transactions made in the last 24 hours.
Eligible transaction include any & all authorized purchases made with your Fold Card details (your Fold Card number, expiration, CVV, etc.) — Not ACH transactions just yet.
You can respin a single transaction multiple times (you could use all your available extra spins on one single transaction if you really wanted to — do you) .
Store an unlimited amount of extra spins in your spin bank —although they do each expire 7 days from when they're issued.
🔮 What's Next for Extra Spins?
Soon, you'll be able to use available extra spins to spin on a portion of your ACH purchases. This means you'll be able to get sats back on transactions made using your Fold Card account and routing number — like rent, mortgage, and utility bills.
We also hope to (further down the road) add other types of spins — like power spins.
We'll continue to refine extra spins based on the feedback we get (i.e. the weekly amount we drop in Premium Cardholder accounts may change) but we feel this is a good start!