Did you spin today?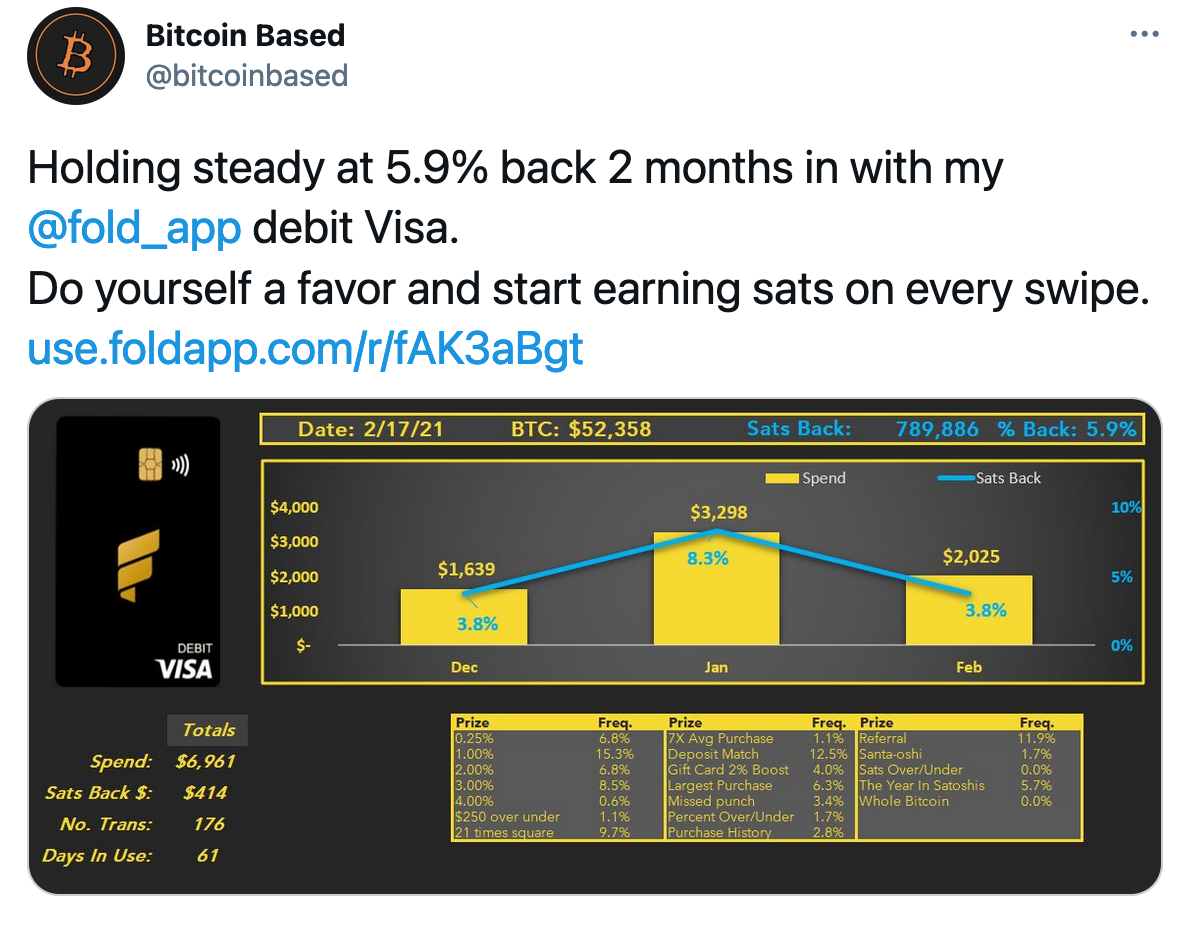 So far, tens of millions have been spent via the Fold Card netting our Early Access users hundreds of millions of sats. Plus, we've had six cardholders win 1 whole bitcoin. We've learned a ton by working with our EA community and believe that we're very close to being able to roll this out to everyone.
We just sent out a final survey to get the feedback from our Early Access community for final insights into how the program will evolve.
What's clear is that people love the program with ~70% reporting they would be 'extremely disappointed' if they could no longer use Fold and ~65% reporting that the Fold Card is their primary spending card, yet there's no shortage of improvements to make.
We will be announcing major changes to the Fold Card program based on what we've learned during Early Access and begin moving into our Accelerated Rollout very soon.
Here's what we've heard and what we're doing about it.
Spinning for Rewards
We have three major challenges to address in order to improve the spin experience, including:
Rewards should be earned on every transaction.
Rewards should scale with purchase size.
Rewards should be balanced between great, good and ok wins.
Here's what we are doing immediately to address these issues:
Extra Spins: Think of extra spins like extra lives in a video game — they give you an extra chance at winning. These extra spins will let you recover a spin you missed or respin a prize you don't like. You can earn extra spins on the post-purchase wheel and we're going to drop 5 extra spins in your account to celebrate the release. ETA: Next Week 2/22
More Rewards: There will now be 10 prizes on the wheel to increase the diversity of prizes, which will prevent you from hitting the same prizes over and over. ETA: Live on the current wheel
Minimum Satsback: You will now get a minimum back on your purchases. ETA: Will Rollout w/ New Program 3/1
Funding your Account
We are on the cusp of making big improvements to our lengthy funding process.
Faster Funding: 2–3 Day ACH Funding will significantly change the existing funding experience. ETA: Currently Live
In-App Funding Approval: Many were unable to activate in-app funding, however we've worked with our partner to sort this out and should be able to onboard everyone that received the "Not available at this time error." ETA: Currently Live
Instant Debit Funding: This is one of the most anticipated features and we're working through a few delays to get it out. ETA: Early March
Spending and Deposit Limits
As a new program we've had spending and deposit limits put in place by our banking partner. After seeing the success of the program we've been able to work with them to double all limits. ETA: Currently Live
Spending limit goes from $2,500/transaction to $5,000/transaction
Deposit limit goes from $5,000/deposit to $10,000/deposit
Balance limit goes from $10,000/balance to $20,000/balance
Boosting Rewards with Merchant Deals
Merchant funded offers will enable everyone to boost their rewards with the Fold Card.
Gift Card Shortages: All brands and denominations return to normal. ETA: Ongoing
🆕 Affiliate & Card-Linked Offers: Fold users are about to get a major boost to their ability to stack sats via passive card-linked offers and affiliate deals. This means you won't necessarily have to go through gift cards to get boosted rates. Costco, Safeway, Walmart, Sprouts and Gas! ETA: Mid-Late March
Customer Support
We're a small team that's experiencing hyper growth. We want support to be core to our experience as we scale, here's what we're doing:
Customer Support Hire: We've identified some incredible support candidates and will be making a hire soon to ensure that we maintain quality of support as we grow.
Community Lead Hire: Community is central to the Fold experience, so we're investing in someone to manage and scale our growing community.
Other Updates
KYC Review: We've had a backlog of people stuck in KYC and are working with our partner to expedite their review. ETA: Late February.
Bugs and Performance Issues: When you're building fast, you also accumulate technical debt fast. We've decided to slow down in order to speed up, addressing some critical bugs and tech debt that will make the experience smoother and more reliable. ETA: Ongoing.
— — —
When will we begin onboarding more users?
Currently, 100–200 invites are going out each week day. We will close Early Access and move to our Accelerated Rollout where we'll onboard 1,000–5,000 per day.
Things to remember
Remember the early access code of conduct. We are all in this together.
While the Fold Team is small, we've got your back. If a support issue comes up, please refer to our FAQs and guides on support.foldapp.com or submit a ticket there if you need additional help.
Give us ideas for what kinds of prizes you want to see on the wheel. The wheel will change frequently. What do you want to win?