Visa recently made some changes that will very soon impact some of our rewards. But here's the exciting part: we've leveraged this situation to boost rewards on entire categories that you love most. Let's get into it.
Key Takeaways
Category Boosts will go live at the end of September; changes to rewards for bill pay and PIN transactions will go live on September 12th. Jump to the details.
We're expanding the newest Spin+ benefit, Card Boosts, to include Category Boosts, which let you earn rewards as high as 2% back on entire spending categories, including rideshare, travel, dining, digital media and more.
Spin+ members will be able to combine both types of Card Boost rewards: those earned from specific merchants and those earned from specific categories. For instance: a single purchase at Starbucks earns a 2% back Starbucks Merchant Boost + a 1.5% Dining Category Boost = 3.5% back total. These combos will be made easy to understand and use in the app.
Visa recently made changes that will reduce rewards on some spend categories, including PayPal's bill pay and transactions that require you to enter your PIN.
Rewards 101
Here's how the rewards work: every time you swipe your card, Visa pays Fold an "interchange fee," a percentage of the total purchase. That fee depends on the type of merchant where the transaction took place and any specific deal the merchant has with Visa.
We give nearly all of the interchange we receive back to you as rewards.
This is what it looks like:
In order to run a healthy rewards program, we will sometimes need to change our rewards when Visa changes their fees, especially when the fees we earn are less than the rewards we give.
So, how will the recent Visa changes affect our rewards program, specifically? Here's what you can expect, starting with the upcoming rewards boosts and then detailing the rewards busts.
Rewards Boosts: Category Level Boosts
Good news first: we're increasing rewards on the categories where our cardholders spend the most, allowing you to earn up to 2% back.
Category Boosts will first appear at the end of September; then we'll begin rotating in new categories throughout the year to maximize stacking potential.
Here are the first boosted categories you can expect to see: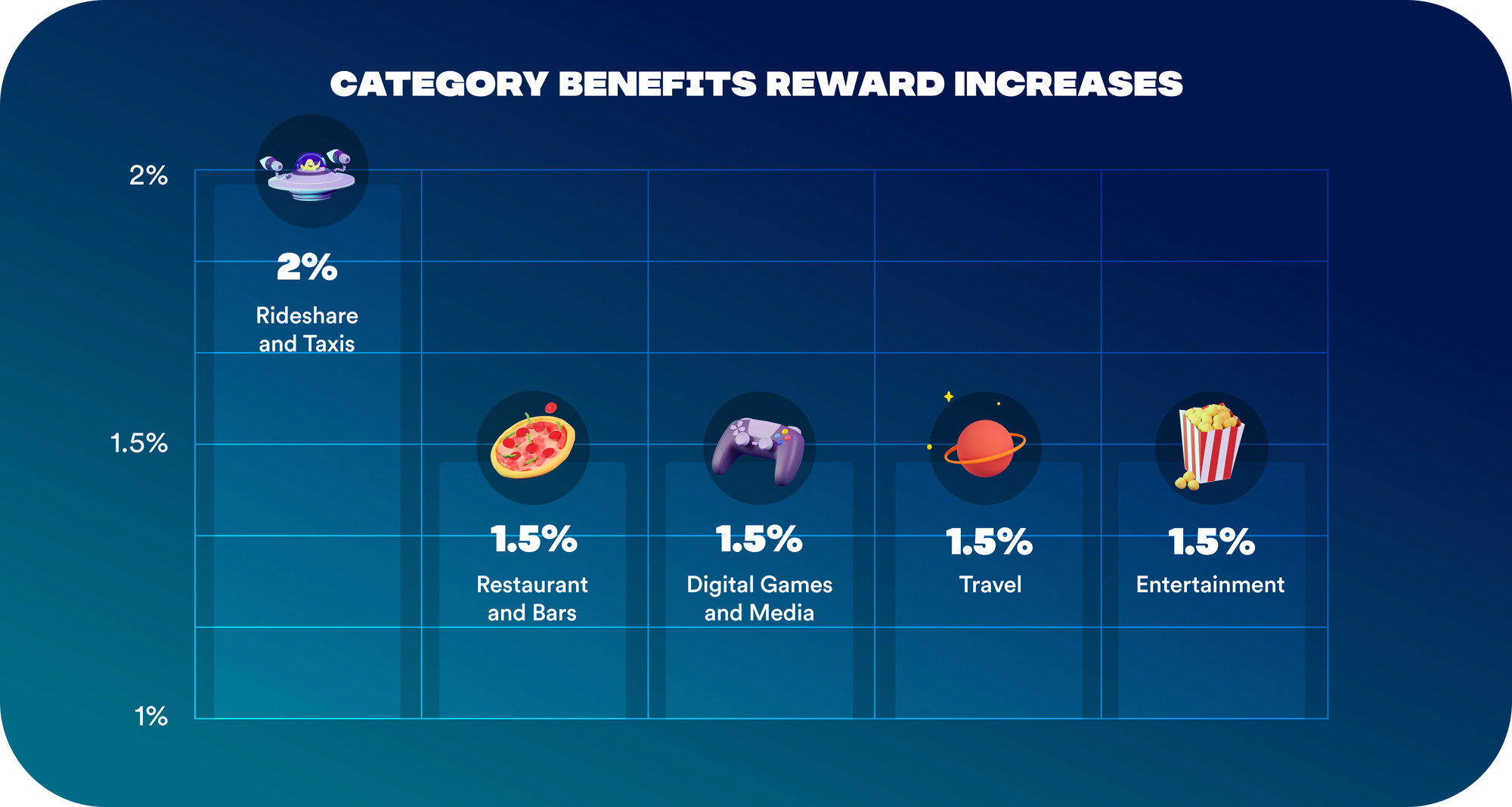 Max Your Stack with Boosts and Combos
We know you love to maximize the rewards you earn. That's why as soon as Category Boosts are live, we will unlock the ability for you to stack Card Boost offers together.
This means you will be able to combine Merchant and Category Card Boosts on single transactions, increasing your overall rewards on your everyday spending.
For example, if you have a 2% back Starbucks Merchant Boost and a 1.5% Restaurant & Bars Category Boost, you'll earn a combined 3.5% back for your Starbucks purchase: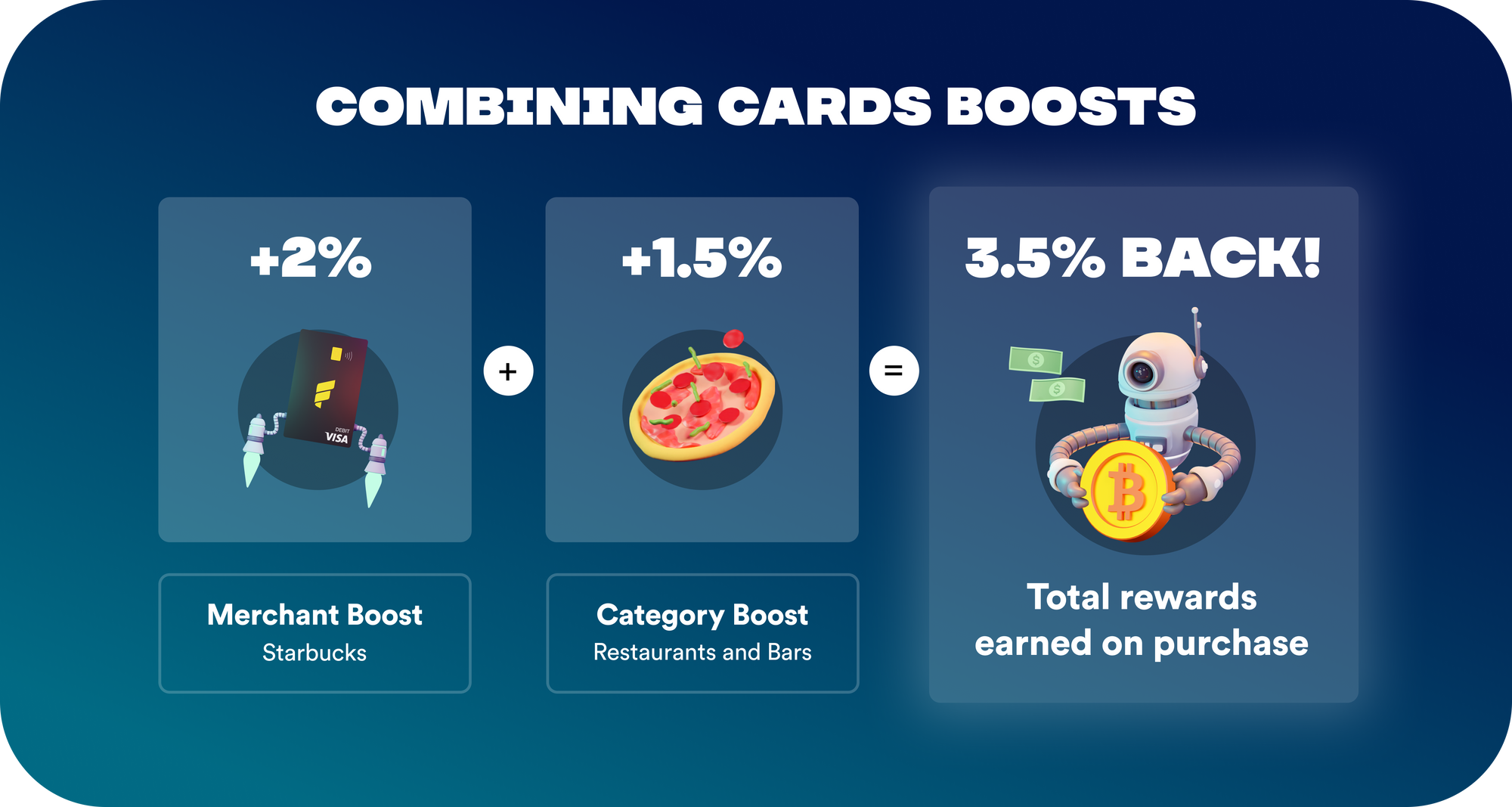 Remember: each Merchant Boost offer has its own redemption details which you can find on the Offers page in the app.
We can't wait to see how you max your stack!
Rewards Busts: Recent Visa Updates
Now for the not so great news: in July, Visa updated their interchange fees on some spending categories, which means Fold is receiving less, and in some cases zero interchange on certain categories. As mentioned above, interchange is what we use to pay out your rewards. When the interchange rate dips below the reward rate, we need to adjust.
It's important for you to know we're not backing down without a fight. While we must reflect these changes as soon as they're handed down, we are actively negotiating all that we can. So while we put the finishing touches on increasing rewards with Category Boosts, the following two types of spend will see impacted rewards starting on September 12th:
PIN Transactions: Transactions requiring a PIN will only be eligible for spin rewards, a.k.a., you will only earn Spins on transactions that require you to input a PIN number.
Bill Pay Transactions: Transactions under MCC 6012 will earn 0.5% flat reward plus Spins. This includes PayPal's bill pay. We're now actively working with Visa to improve this situation, just like we did when we worked with PayPal to restore that popular stack hack.
Spin-Only Rewards Categories
Some categories like Government Services, Educational Fees and Cable & Satellite Services will eventually only earn Spins. These categories make up less than 15% of total cardholder spending. Keep in mind that as these changes take place, we will provide precise information about the categories affected in our upcoming FAQ section. Additionally, you'll notice that many of the changes themselves will be highlighted in the app's user interface. These particular category rewards changes won't happen until late September.
Wrapping Up
We're sharing these changes in advance to give our Spin+ members time to plan ahead. If your annual Spin+ renewal was originally due in late August, we've extended it to September 8th.
Thanks for being part of the Fold community and joining us in improving our rewards program. We're committed to transparency, innovation, and your experience. Stay tuned for more updates and get ready to boost your rewards!
If you have any questions or concerns after reading this then please fill out this feedback form and we'll incorporate your feedback into the upcoming program changes.
Team Fold