Available to all Fold Cardholders February 16 - March 30th, 2022.
tl;dr: jump to the updated odds and prizes

March 16th: The wheel has been refreshed! Individual prize limits have been reset from March 16th through March 30th.
Choose to spin and win big
Our community has been loud and clear about the most recent purchase wheel: when it comes to earning Bitcoin rewards with the Fold Card, Spinning is Winning.
We decided to improve upon our highest-rated wheel (according to our survey) by increasing the chances for all users to earn big rewards.
Making a good thing better
We don't need to reinvent the wheel, but there is always room for improvement.
Rewarding the choice to spin and earn up to 100% results in more sats earned for our cardholders, but we also need to reward purchases both small and large.
Again, we turned to the community to help us fill in the gaps that we were still missing. The feedback that stood out the most is something that we have heard before: the caps on big rewards were too low.
So, we made a change.
On the new wheel, we've raised the caps on our biggest rewards so you can earn up to $100 back in Bitcoin on your biggest wins, and we've balanced it out by limiting those big rewards to 1 win per user.
By making the prize limit per user, we've ensured that each user will have equal opportunity to hit each big prize.
The big adjustments:
Increased caps on 4 major prizes to $100 (nice!)
Added $50 jackpot prize ($50 of bitcoin!)
Added purchase match prizes (rewards your big spends)
Added balance match prize (rewards your account balance)
Removed shared limits on big rewards (1 win per user on the big prizes)*
Increased simplicity by reducing number of wedges
*this limit still applies even if you choose to use an extra spin after landing on this prize.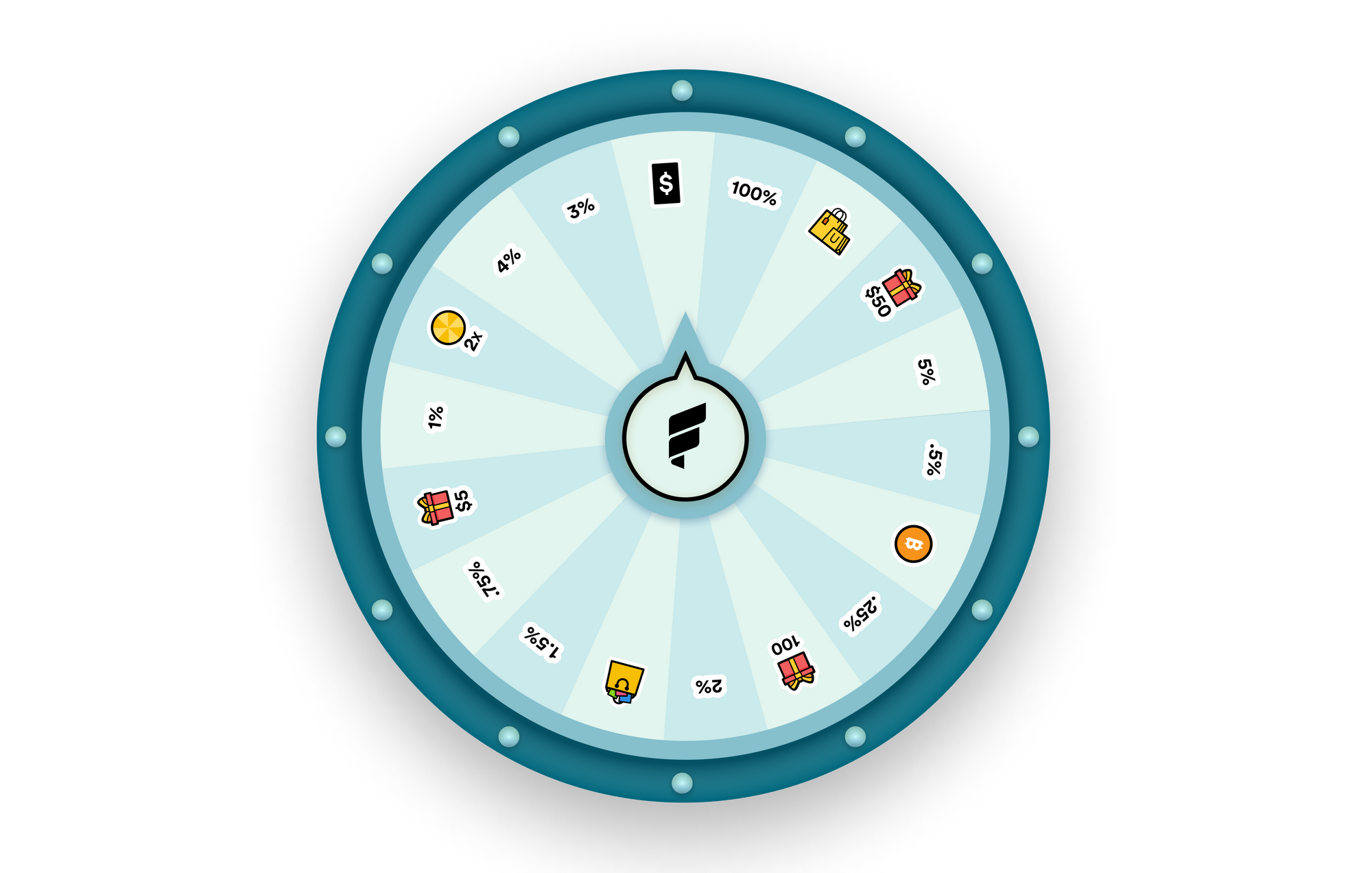 Updated Odds and Prizes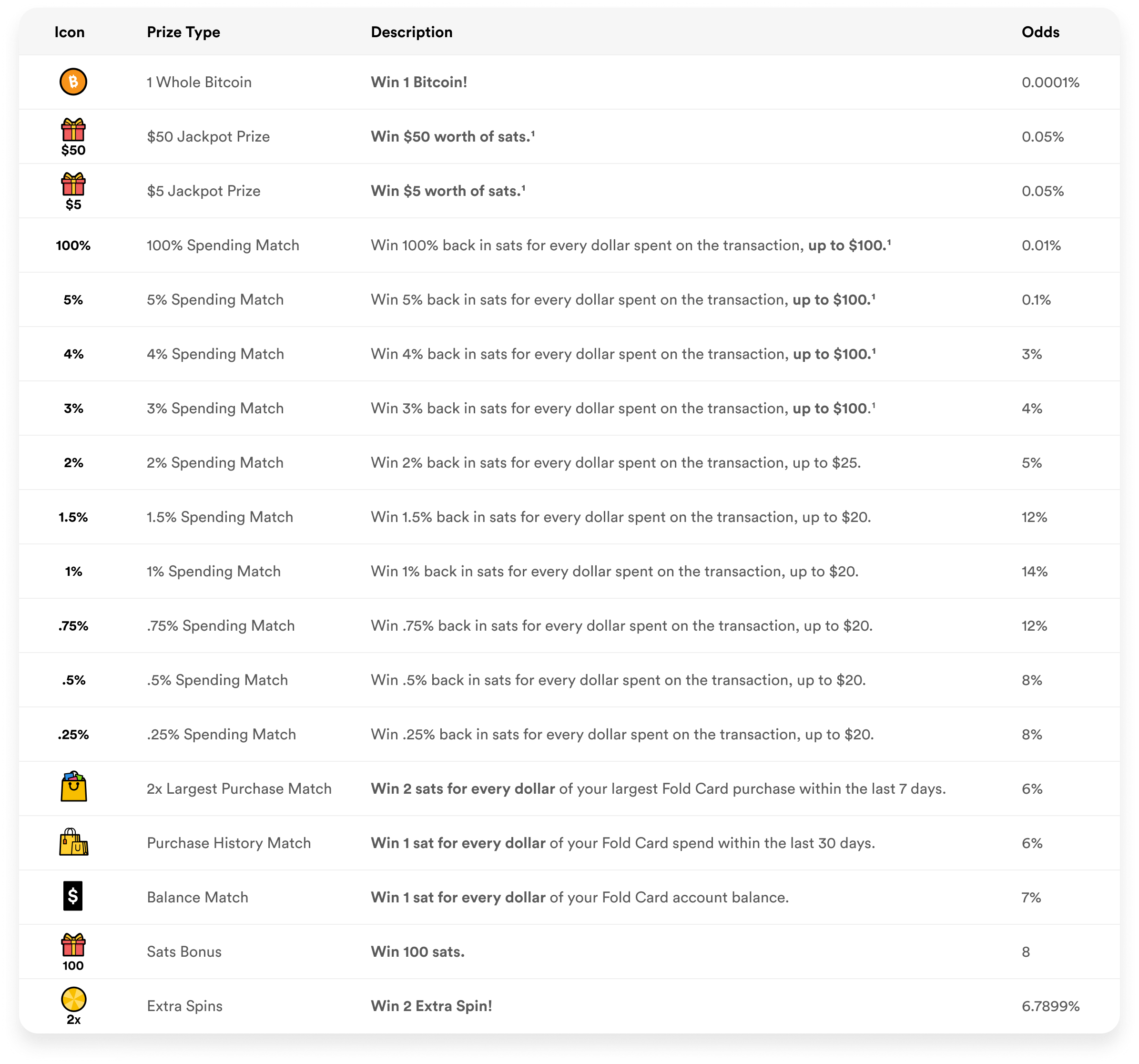 ¹Limit 1 win per user per wheel, Limit 1 BTC prize per wheel, Jackpot Prizes are limited to your purchase amount, Largest Purchase Match prize is limited to 5000 sats, Purchase History Match prize is limited to 1000 sats, Balance History Match prize is limited to 1000 sats, rewards are based on BTC's price at the time of purchase, see terms for details.
---
Ready to stack some sats?
Earning bitcoin with your Fold Card is simple.
The more spins you have the more sats you'll stack.
The new wheel launches today and provides more bitcoin rewards to those who choose to spin on every purchase made with their Fold Card.
We learned a lot from our community's feedback on the previous wheel. So on this wheel, we've made some big changes to make your stacking more fun and rewarding.
The highlights:
1 whole Bitcoin jackpot is back (LFG!)
higher spin rewards
more jackpot rewards ($1-$100)
more variability of rewards (18 prizes)
new daily spin drops for Spin+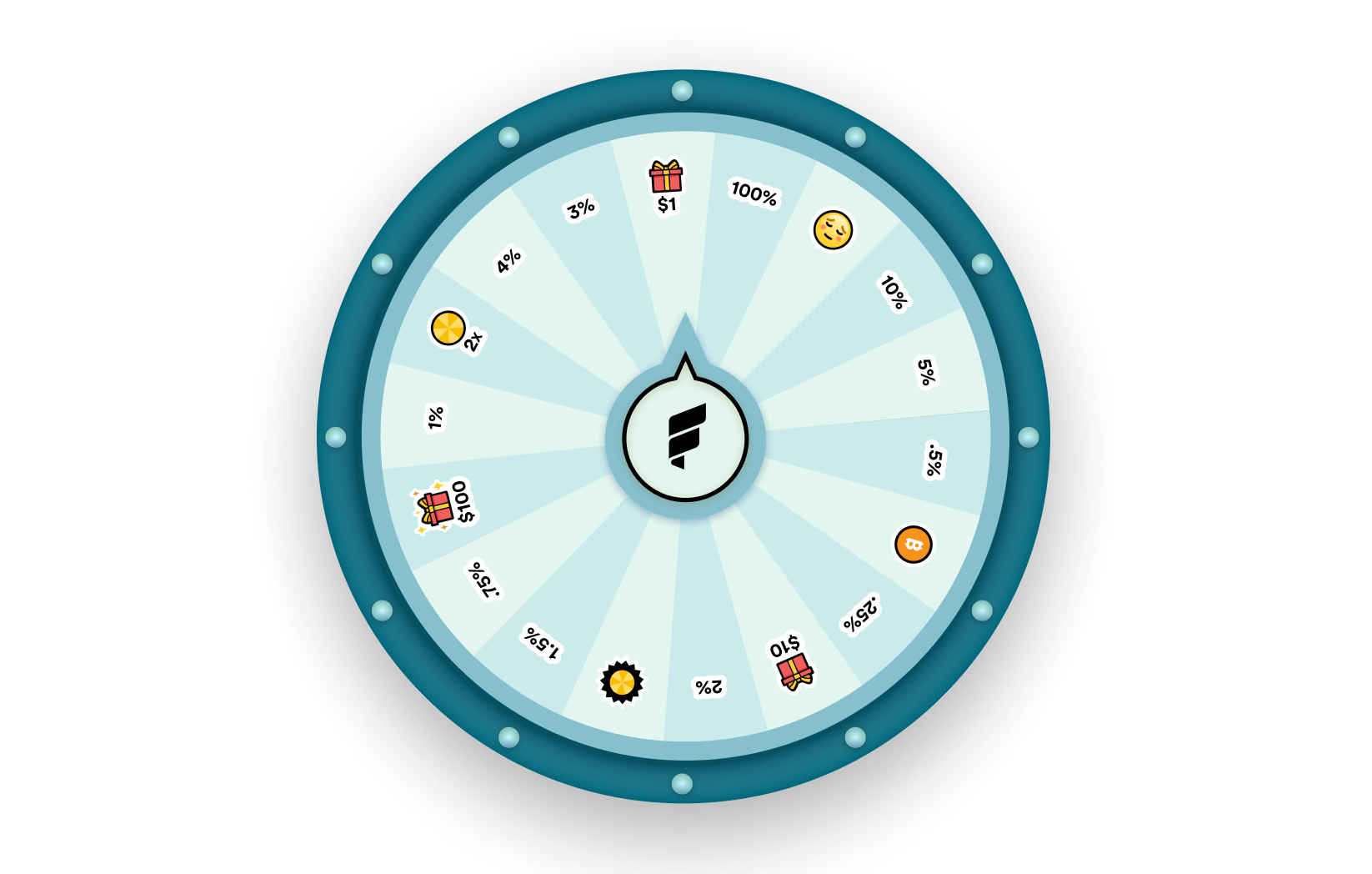 Spins FTW
This wheel truly celebrates the spin by lowering the flat rate guarantee to make room for higher spin rewards.
Here's the good news: we've added new Daily Spin Drops for Spin+ users so you'll always have a chance to keep spinning until you win big.
Here are the differences between Spin and Spin+ at a glance: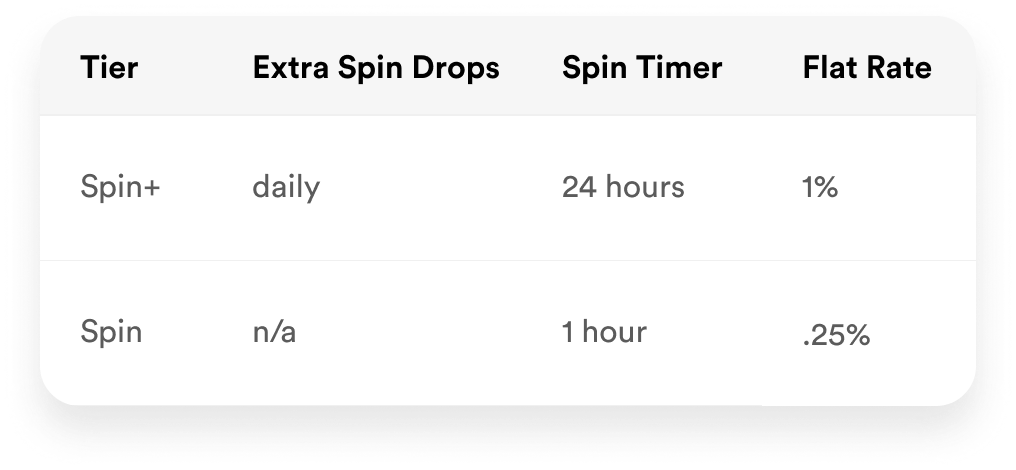 Want to upgrade? Just shoot us an email from within the app and we'll take care of the rest ("Account" tab → Contact Support).
Need some spins?
If you're not a Spin+ user getting those new daily spin drops, no worries; everyone has the chance to stack additional spins through a variety of ways:

Also - don't forget to follow us on Twitter for random spin drops, and join the Discord for weekly spin giveaways.
Odds and Prizes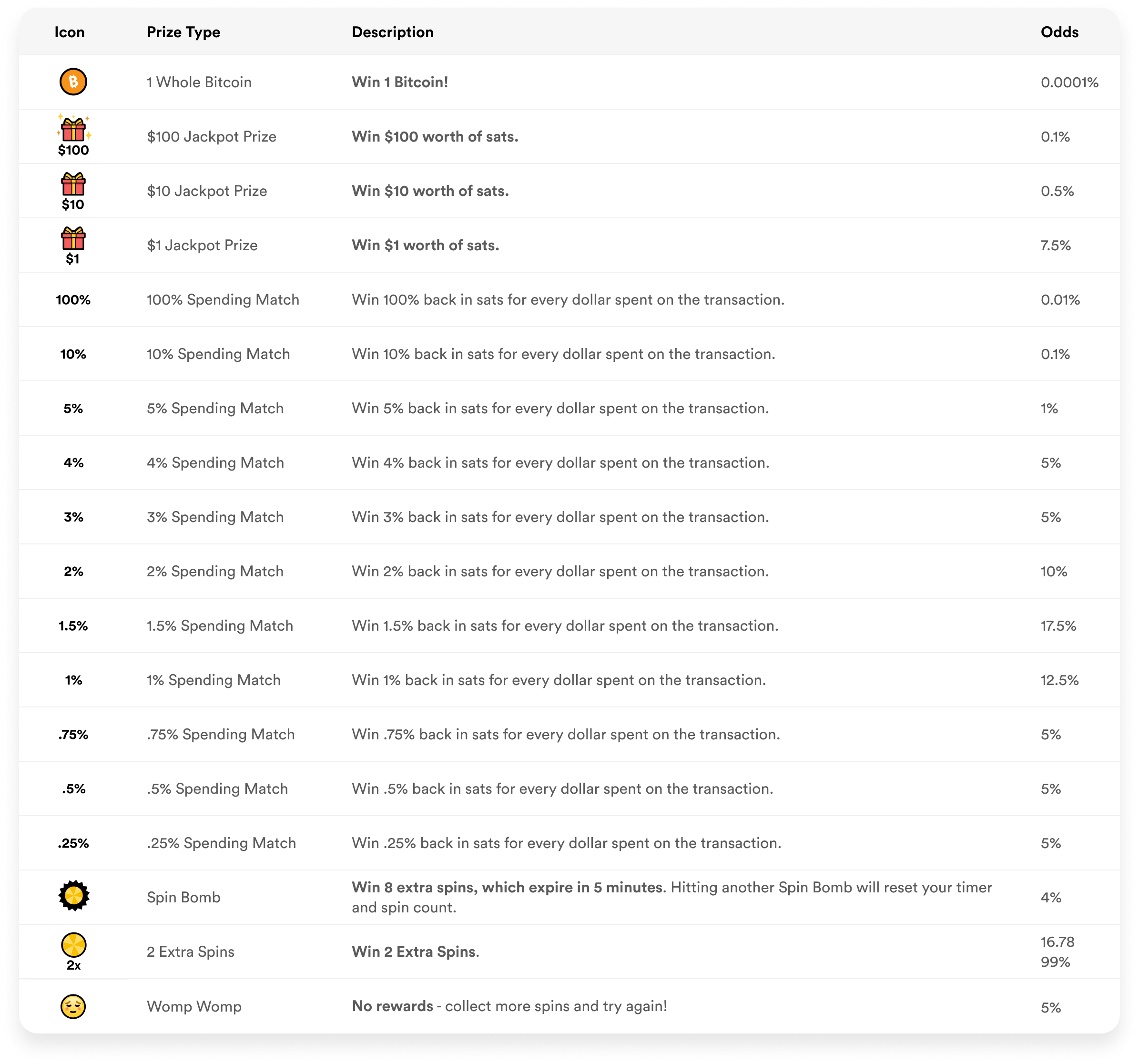 notes on prizes: Limit 1 BTC prize per wheel, Jackpot Prizes are not tied to spend, Spending Match prizes have a limit of $25 per prize, rewards are based on BTC's price at the time of purchase, see terms for details.
Move the needle
So how are things going? We factor in your feedback as we build out each wheel. What did you think of this one?
---
Welcome
New to the Fold Card? Start here.
Updates
Want to get updates when a new purchase wheel is available? Follow along here on our blog, on Twitter, or join our Discord community.
Standard disclaimer:
This is just a summary. The purchase wheel is currently only available to Fold Cardholders. The wheel is available for spinning after each purchase made with the Fold Card (currently excluding ACH), subject to certain exclusions.
For full terms and conditions, see Terms of Spinwheel Sweepstakes. You can read about each of our spinwheel prizes from the current and prior wheels.