Today, we're giving away early access to Fold's new app (and a ton of bitcoin). The earlier you get access, the more sats you'll get. Refer friends to move up the list!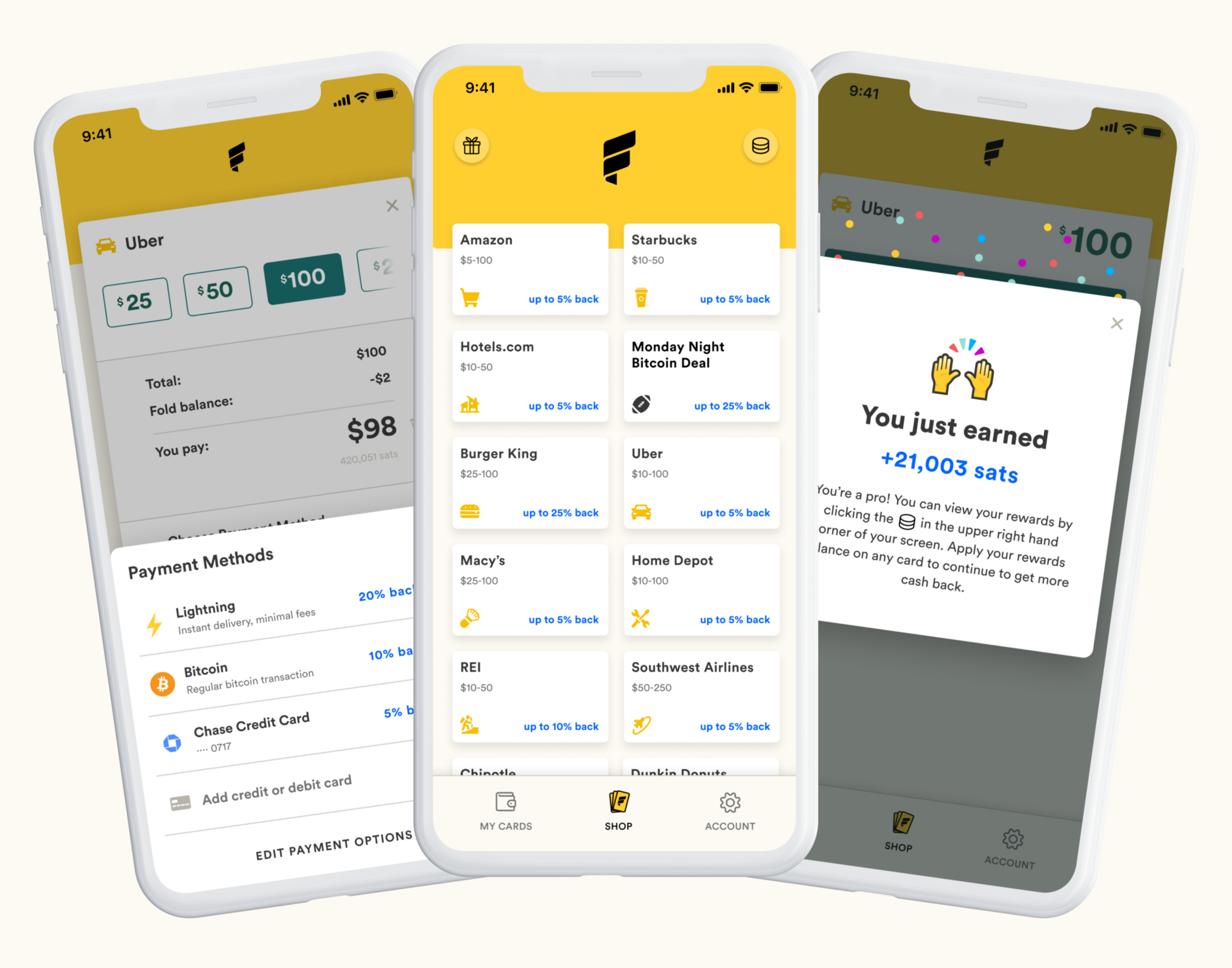 Fresh App, Dirty Fiat
Available on iOS and Android, Fold users can now spend fiat or bitcoin and get up to 20% cashback in bitcoin at retailers like Amazon, Uber, Starbucks, Hotels.com, and many more. It's simple, sync your credit card or lightning wallet and spend via Fold at select retailers online, in-store or in-app, earning bitcoin on every purchase, instantly.
Fold users have earned nearly a hundred million satoshis in the last 30 days alone! Get up to 100k satoshis for being one of the first to #stacksats with the new app.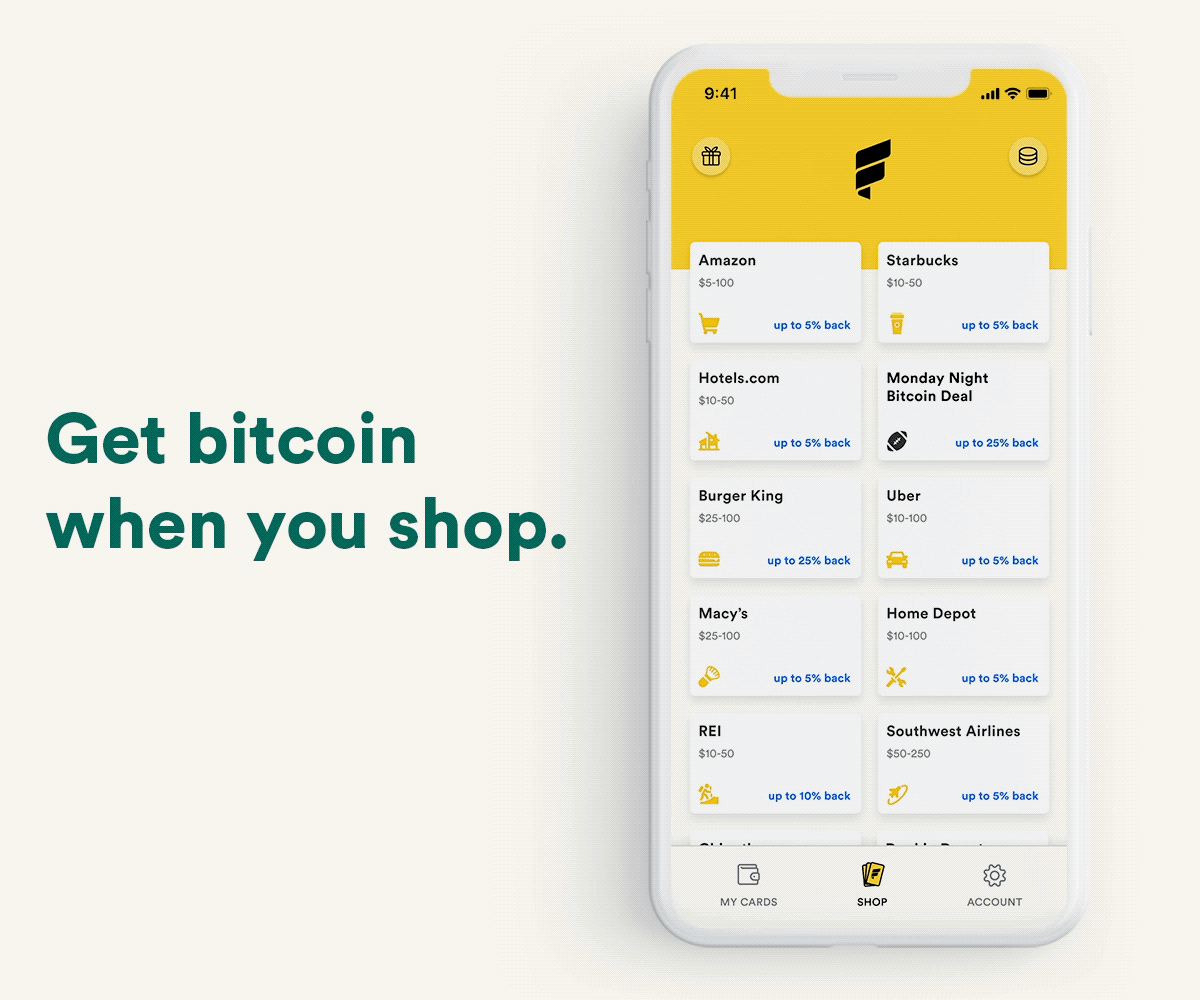 Yellow App Good, Number Go Up
We give normies and maximalists alike the ability to earn bitcoin while shopping. If all rewards points issued last year (~$48B) were paid out in bitcoin, nearly 14mm bitcoin would have been distributed to ~170mm people with a present day value of ~$140b. Lol.
We're changing the fact that rewards points are issued in the form of restricted airline miles, arbitrary points or depreciating fiat, instead of the best performing asset of the last decade: bitcoin. But, unlike existing rewards programs that require users to give up their privacy for points, Fold's new app rewards users for shopping privately (amongst many, many other things).
Incognito Mode For Everyday Spending
We combine bitcoin, lightning network, prepaid cards and other privacy features to ensure your personal information, payment details and transaction data is kept private — safe from advertisers and attackers alike. We're a payment gateway with rewards instead of fees and a rewards program with privacy instead of surveillance.
Fold is incognito mode for everyday spending— one of the most private forms of payment available.
A Good App for a Mad World
It's become dangerous to go shopping. Every time you make a purchase, you reveal a lot — personal details, payment information, transaction history and location data — to the retailer, card network, bank, financial apps, and payment processor, all of which are the target of frequent attacks. Of course, there's also the increasing surveillance of everyday payments by advertisers, governments, corporations, and even employers.
Fold is one more tool in your arsenal to thwart the bad guys, right alongside your ad blocker, private browser, password manager, encrypted messaging, and lightning node. It's time for the world to experience Bitcoin as a fundamentally better way to pay, save, and most importantly, live.
The Fold Family Grows
We've partnered with experienced investors to pursue our vision of making bitcoin accessible and rewarding for everyone. We want to give the warmest welcome to Craft Ventures, Coinshares, Slow Ventures, Goldcrest Capital, Fulgur Ventures, and others.
Also, many thanks to Fold's technical and spiritual guides including, Elizabeth Stark, Alex Bosworth, Matt Luongo, James Prestwich, Marty Bent, Nic Carter, Meltem Demirors, Brian Murray, Pierre Rochard, Jill Carlson, Hodlonaut, Dan Held, Russell Okung, Jeremy Welch, George Mekhail, Jack Mallers, Alex Gladstein, Sam Lessin, and Oleg Mikhalsky.