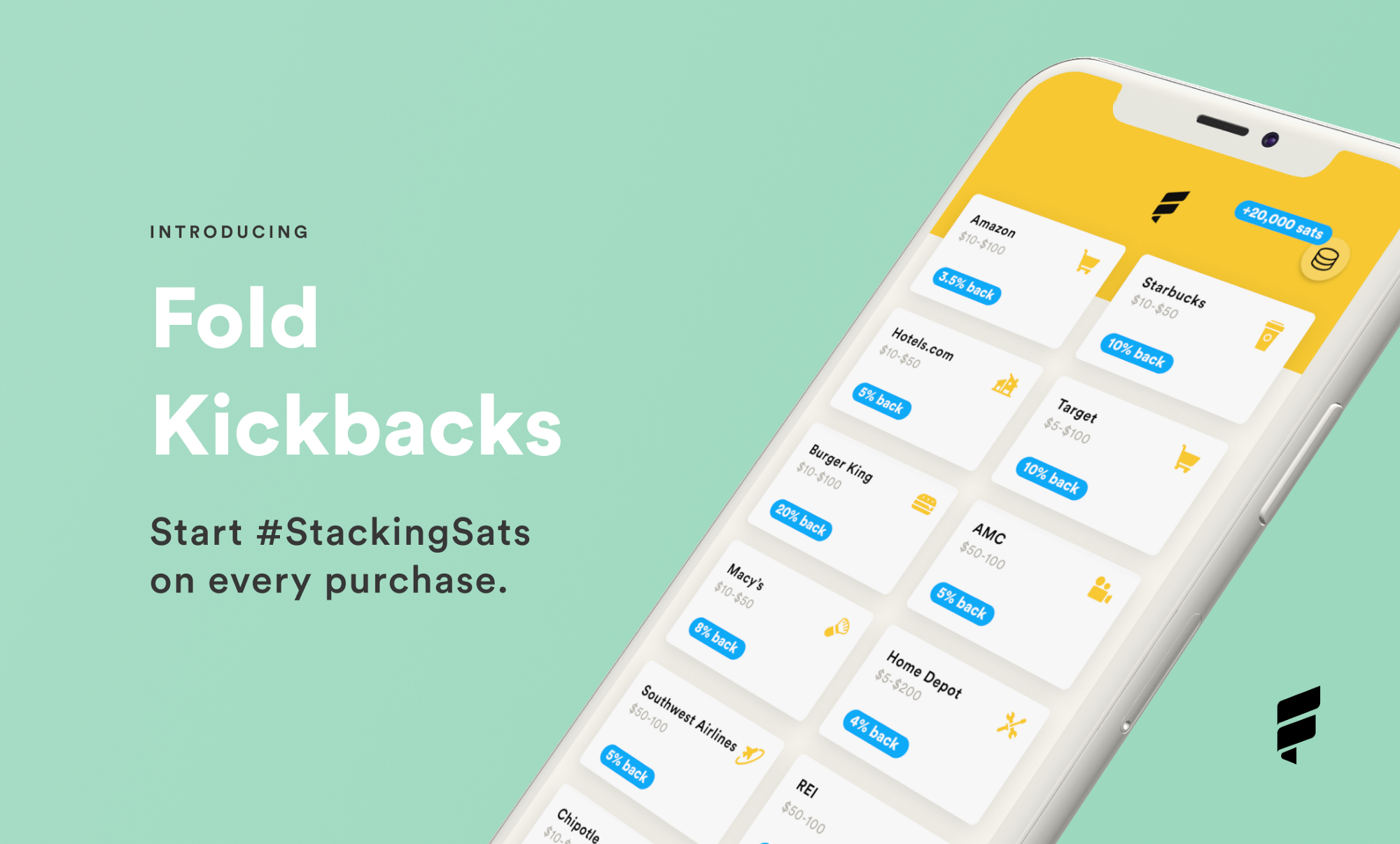 Get up to 20% back in bitcoin when you shop via Lightning.
Today, we are excited to release Fold Kickbacks —making Fold the most rewarding way to pay. With Kickbacks everyone can get up to 20% back in bitcoin instantly on all purchases made in-store or online at major retailers like Amazon, Uber, Starbucks, Burger King, REI, Target and more.
This means that every Fold user gets free bitcoin back on their purchases! Super users and subscribers can take advantage of Boosts to get even higher rewards.
To celebrate the launch of Fold Kickbacks, we are giving all new and existing users Boosts for 30 days.
Start #StackingSats now and get 20,000 satoshis just for joining.

Here's how it works:
Make a purchase via Fold and opt-in to Fold Kickbacks.
Get free bitcoin instantly dropped in your account based on % above.
Hodl or spend your new bitcoin.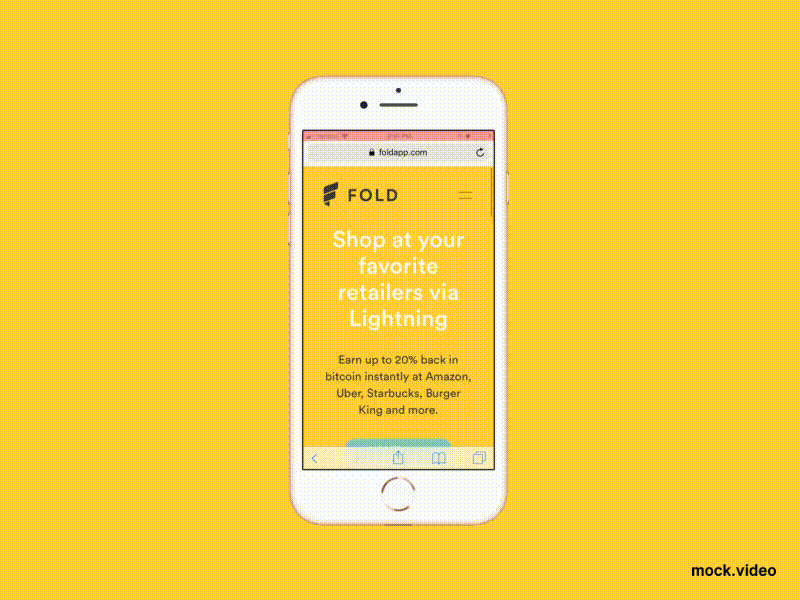 How do Fold Kickbacks stack up against other rewards programs?
Fold offers the highest rewards back at the best retailers on all purchases in-store and online, instantly.
Unbeatable Rewards: Get 2–3x more rewards back than you would shopping with other programs.
Instant Payouts: Ain't nobody got time for delayed payout periods and hazy reward estimates!
Compound Rewards: Leverage existing sales and affiliate/rewards programs when applicable to compound your payouts.
Shop Anywhere: Earn Kickbacks on every purchase in-store or online.
Real Privacy: Never expose your browsing history, transaction records or payment details to anyone. Also, no need to turn off your ad-blockers or submit to KYC.
True Bitcoin: Experience the Bitcoin circular economy today!
Where do the Kickbacks come from?
Fold integrates Lightning into prepaid access programs of major retailers (think store credit, gift cards, etc). Users pay via Lightning and merchants settle instantly in the currency of their choice. Because we're introducing new customers, lowering processing fees and reducing exposure to charge-backs for merchants, Fold gets a discount that is paid out as Kickbacks for our users.
Can I earn Kickbacks and still be a Hodler?
Yes! We're all about hodling over at Fold, so we know it's no small task to ask people to part with their precious satoshis. Fold was created to make spending your bitcoin better. If you're going to help spur the bitcoin economy, you should get rewarded.
Pro-Hodler Tip: Keep and refresh a wallet of satoshis to spend on everyday purchases alongside your hodl stash.
Can I earn Kickbacks if I don't have Bitcoin?
Not yet. In the short term, we recommend you download the CashApp and buy some Bitcoin. Keep some as savings and spend the rest via Fold to get more rewards than the most generous credit card and affiliate rewards programs can offer.
What can I do with Kickbacks?
Get Kickbacks on every purchase you make and gift you send within Fold. Your rewards can be hodled, spent, or in the near future, withdrawn to your personal wallet.
What's the point of all this?
We're here for the big takeover — aka hyperbitcoinization. To that end, we're creating irresistible on-ramps and use cases for Bitcoin to kickstart a robust circular economy. We're doing this because we believe Bitcoin enables a fundamentally better way to pay, save, and most importantly, live. Bitcoin preserves privacy, resists censorship, is natively global and, now deeply incentivized.
Pay with Fold, and avoid sharing payment details and revealing your transaction history. Opt out of surveillance capitalism. We're making everyday use of Bitcoin irresistible. #StackSats everyday!
We'd love to hear your feedback and answer any questions, let us know at @Fold_App on Twitter.
All trademarks not owned by Fold that appear on our website are the property of their respective owners. Fold is not the issuer of any of the gift cards or other closed-loop products sold on Fold and is not related to any merchant whose trademark and gift cards appear on Fold for sale. Please visit each company's website for additional terms and conditions. Present the Terms and Conditions anytime you're presenting specific gift card use details.