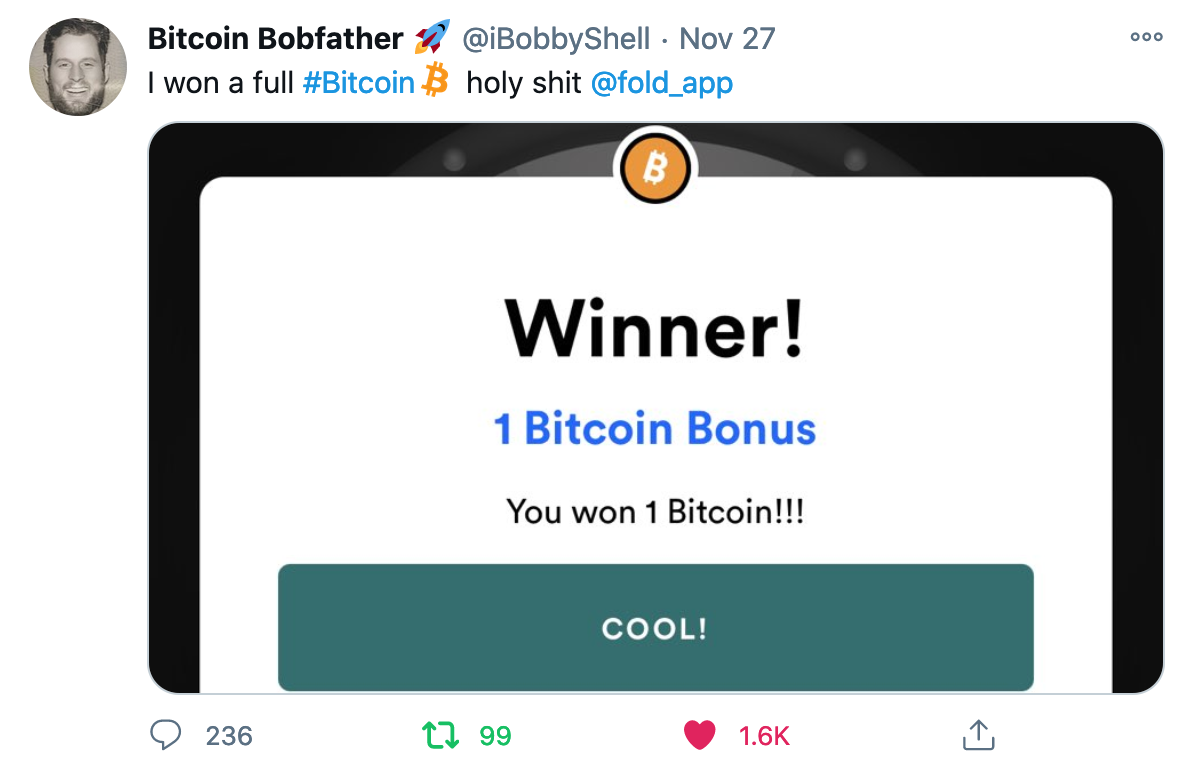 It's been a little over ten days since we opened access to the Fold Card and we've learned a lot.
The Black Friday Wheel was spun thousands of times in the first few days and has awarded tens of thousands of dollars / billions of satoshis to our Early Access community. Here's some highlights:
I'm still blown away by how supportive the Early Access community has been and how they've leaned in to help create a truly novel, rewarding bitcoin rewards experience. We are serious about forging our own path, which will come with special challenges, but I'm really grateful to be building it out in the open, with you all.
After the first week, here are a few updates:
- New Funding Options: We're hard at work bringing new funding methods to the Fold App including in-app ACH transfers and instant debit funding. You can reference them in the Fold Card Funding page, and we can expect them to land in the next week or two.
- Funding Challenges: We've seen a few issues with funding from a select few banks (USAA), especially during the holiday week, and are currently working with them and our own banking partner to fix the issue asap.
- Apple/Google Pay: We've made great progress on Apple and Google Pay, and we expect them to go live after December 7th.
- Physical Card Delivery: We've been updated by our card manufacturer and they've confirmed that we're still on track to receive the physical cards in 1–2 weeks. These won't have NFC and won't be vertical. But they are "limited edition." You'll each receive the limited edition ones now. And you'll receive the updated one free of charge when they are ready, if you want it. Look out for a notification to prompt you to confirm your shipping address.
- Black Friday Wheel: We launched our Black Friday Wheel which was spun thousands of times over the week. We're already working on our special Holiday Wheel, New Years Wheel and others. It's going to be really fun. We'll be including an in-app survey that you can rate each wheel to give us feedback on what you like.
- ACH Rewards: We're working on building out the ACH rewards system and we've received great feedback from the Early Access group on how it should work. Expect an update in the next week or two for specific terms.
- Spin Wheel Rewards: We're working on the Spin Wheel Rewards, specifically the timeframe, missed spins, unclear prizes and how to reward larger purchases. We don't have a final plan but hope to formalize a solution in the next week or so. Make sure to let us know what your favorite/ least favorite rewards have been and suggest ones you'd like to see via an upcoming in-app suggestion link. We just launched a wheel to experiment with rewards that incentivize both small and large purchases.
- Spin Wheel Abuse: We've seen some abuse on micro transactions (excessive $0.25-$2) to trigger spins. In order to disincentivize this and avoid triggering fraud systems on the merchant and bank side that could result in account bans/shutdowns, we've implemented a $3 minimum purchase to trigger spin. On the flip side, we've introduced more prizes that scale with the size of your purchase to encourage larger purchases.
- $50 Bitcoin Bonus: We are receiving lots of questions about when people receive their first part of the $50 Bitcoin Bonus. Users will get $4.16 dropped into their account each month as long as they deposit at least $500 monthly. This does not go by calendar month, but by 30 day periods from sign up.
Here's what we would like from you:
- Keep testing and let us know what you find!
- Remember the early access code of conduct. We are all in this together.
- Give us ideas for what kinds of prizes you want to see on the wheel. The wheel will change frequently. What do you want to win?
- We will be sending out a survey in a few weeks to get more detailed input. Please respond when that comes out.