Available to all Fold Cardholders June 8th - June 22nd.
The Revamp is Here
We're very excited to announce that we've optimized the purchase spinwheel to increase the chances for more people to win bigger bitcoin rewards every time they use their Fold Card.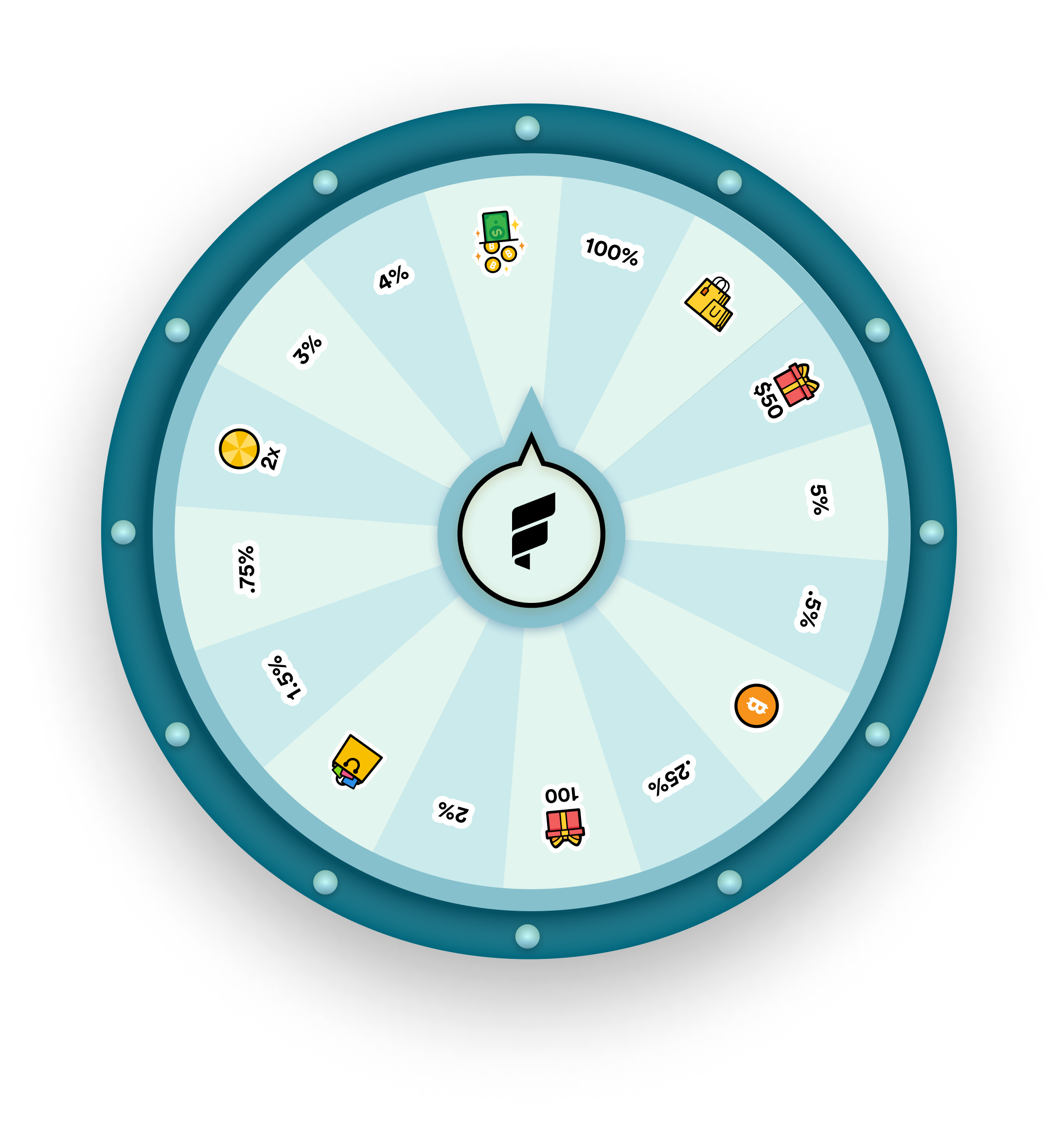 How'd we do this? Well... we decided it was time to take a more holistic approach to improving the bitcoin rewards experience.
The Approach
It starts with spins; the more spins you have, the more bitcoin you can earn with the Fold Card.
So, starting today:
Extra Spins will now last 24 hours, not 7 days (read more about that here: Improving the Spin Experience)
All cardholders will receive more Extra Spins every day (Spin+ will receive 3/day; Spin will receive 1/day)
By making spins expire faster, we've been able to make two major improvements on this wheel:
No more individual win limits on big prizes (except for the whole bitcoin prize, which is still 1 win per wheel)
Better odds on multiple prizes
The result? All cardholders will regularly receive more spins every day, which means they can spin more times for bigger bitcoin prizes, which are now easier to hit. Everybody wins.
The Specs
Here's an outline of the specific changes we made to build this more generous wheel:
Extra Spins now expire in 24 hours, not 7 days (use 'em or lose 'em!)
Individual limits on the 3, 4, 5, 100% wedges and the $50 wedge have been removed (LFG!!!)
1% and $5 wedges have been removed (for a more simplified wheel)
The odds from those removed wedges have been distributed across the following wedges: 0.25%, 0.5%, 0.75%, 1.5%, and 2% (better odds to beat the flat rate!)
The odds to hit 3 and 4% prizes have been reduced (required to keep it balanced)
As always, the full purchase spinwheel details (including odds and prizes) can be found here.
Move the needle
So how are things going? We factor in your feedback as we build out each wheel. What did you think of this one?
---
Welcome
New to the Fold Card? Start here.
Updates
Want to get updates when a new purchase wheel is available? Follow along here on our blog, on Twitter, or join our Discord community.
Standard disclaimer:
This is just a summary. The purchase wheel is currently only available to Fold Cardholders. The wheel is available for spinning after each purchase made with the Fold Card (currently excluding ACH), subject to certain exclusions.
For full terms and conditions, see Terms of Spinwheel Sweepstakes. You can read about each of our spinwheel prizes from the current and prior wheels.