We opened the Fold Card to everyone nearly one year ago. We've learned a lot after processing nearly a billion dollars of transactions and rewarding millions of dollars worth of bitcoin to our community. Now, we're ready to refresh the experience to make the Fold Card more fun and more rewarding for more people.
Spin Experience
Spins are a key feature in our rewards system: the more spins you have, the more rewards you earn. We created the concept of spins to make earning bitcoin fun.
While you can always choose to take a flat rate, over 95% of our users opt to spin! With all this spinning we've learned a lot and now know how to make the experience even better.
We've established a few guiding principles to inform our upcoming changes:
We believe more people should have more spins to hit the big prizes.
We believe people who earn and use spins wisely should get more rewards.
If we can accomplish these, we think we'll have created a better experience for everyone.
The Problem
Right now it takes way too many spins to hit the big prizes— which puts them out of reach for the vast majority of our community. Check this out.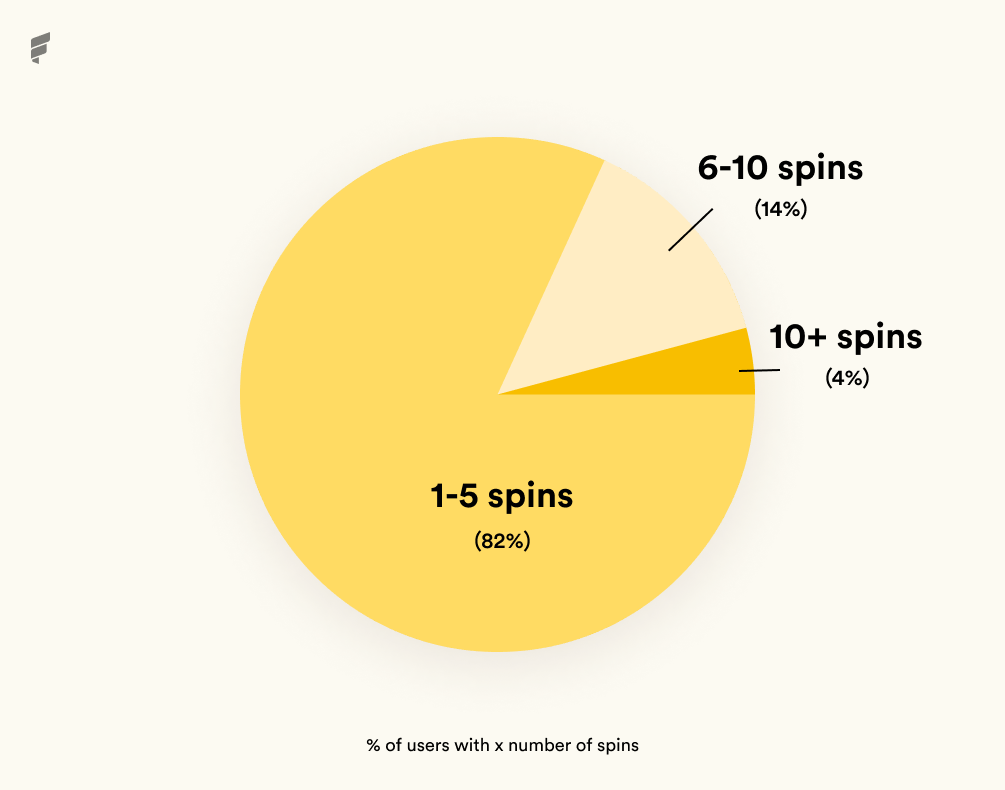 As you can see, a very small group holds the vast majority of all spins and thus hits the larger prizes far more often. This is great because they are playing the game, but it also means new users and the remaining majority are put at a major disadvantage. In the past, we've used prize limits and tougher odds to address this, but now we're doing something different— and way better.
We think big prizes should be accessible to more people and with fewer spins required. These changes will make the Spin Experience more fun and more rewarding for more people than ever before.
The Changes
Starting June 8th, 2022, we're going to make a few changes to empower our community to maximize their bitcoin rewards and fun:
Less Caps, Better Odds: We're removing the individual caps on big prizes and increasing the odds of hitting some of the big prizes.
More Extra Spins: We're increasing the number of Extra Spins you get every day (Spin+ will receive 3/day, and Spin will receive 1/day), and increasing the number of ways you can earn Extra Spins.
Faster Expiration: We're reducing the expiration of Extra Spins to 24 hours so we can give out more of them more often to more people.
By making these changes we expect to see over 85% of users experience higher rewards while using less spins. Those that earn and use spins wisely, and especially our Spin+ community, will be rewarded more than ever. That means more bitcoin and more fun for more people.
Note: Only extra spins earned on or after 6/8/22 will have a 24 hour expiration - all existing Extra Spins earned previously will retain their initial expiration. The timers under each Extra Spin will remain accurate.
What's Next
We know that the Spin Experience is a major aspect of the Fold App, but there's a lot more we can improve. Here's what you can expect coming from us soon:
Spin+ Revamp: Spin+ users are about to get MAJOR new benefits with a smaller subscription, including more ways to earn extra spins on a daily basis. It will make Spin+ the obvious choice for people looking to maximize their rewards.
Credit Card Program: We can't say much yet, but it's going to be awesome.
Better Funding Methods: We're almost ready to release instant funding to everyone! Also on the way are automated transfers that are directly connected to another bank account, which means you never have to think about funding your card again.

LFG,
Team Fold