Available to Fold Cardholders July 14 - July 28, 2021
Konnichiwa, Tokyo
We thrive on engaging with our community, so last week we asked what you wanted to see on this new wheel. There were also lots of amazing ideas – all of which we read and will keep in our back pocket. For this week's wheel, one idea took the gold:
Of course! International cooperation to set a world stage on which to celebrate the spirit of human competition and the achievements of hardworking and talented people who risked everything to win the most coveted prize in their sport? Sounded good to us, so with that being said...
Let the games begin.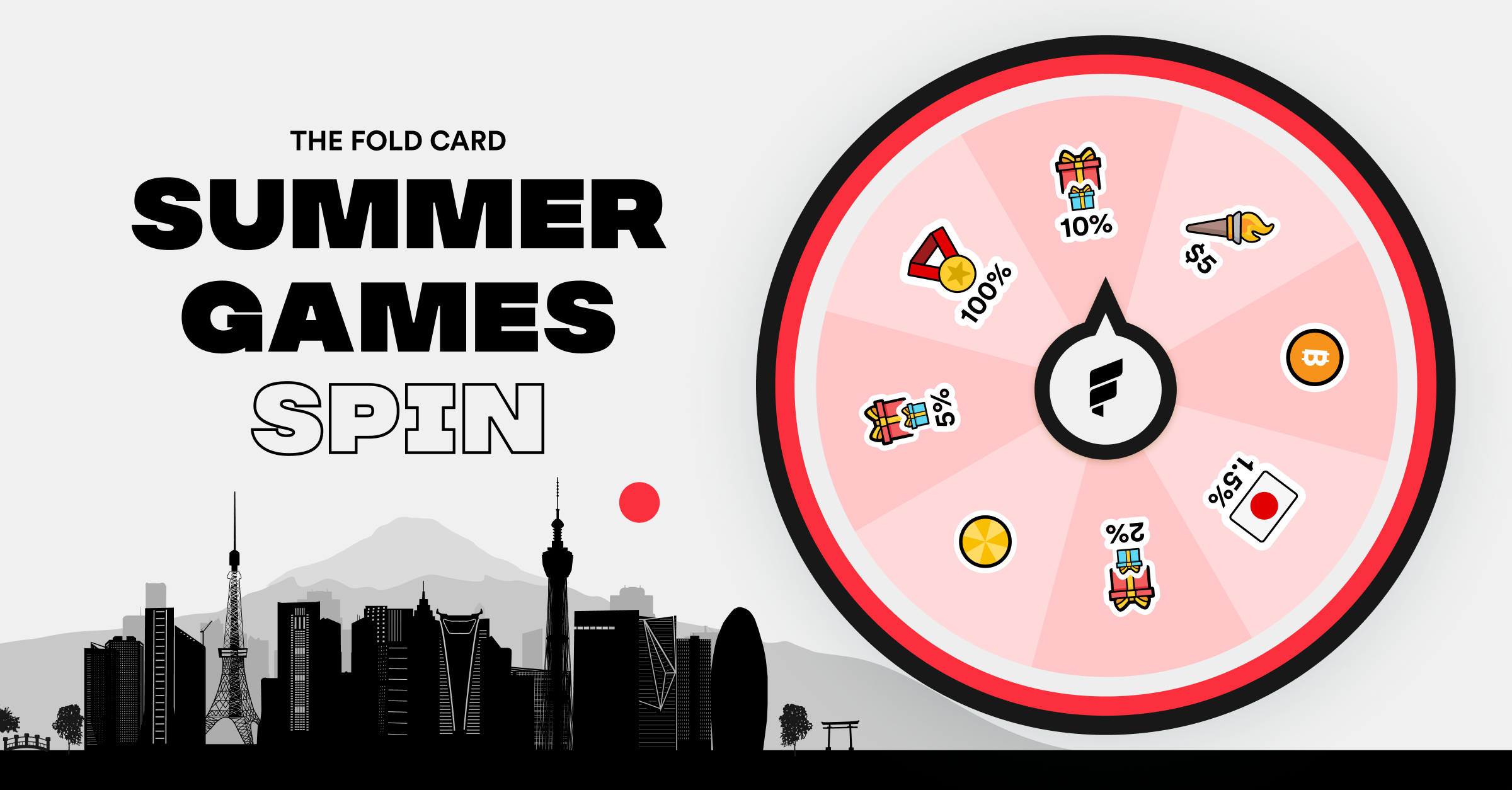 Bitcoin is for everyone
The Summer Olympics is one of the first opportunities (in what feels like forever) to bring together the world in a positive shared experience. We thought it was the perfect theme to pair with our wheel, since it exemplifies some of the core benefits: borderless and inclusivity.
This summer, watch a new sport, cheer on the underdogs, and celebrate the fact that whenever you spin the wheel you will always win.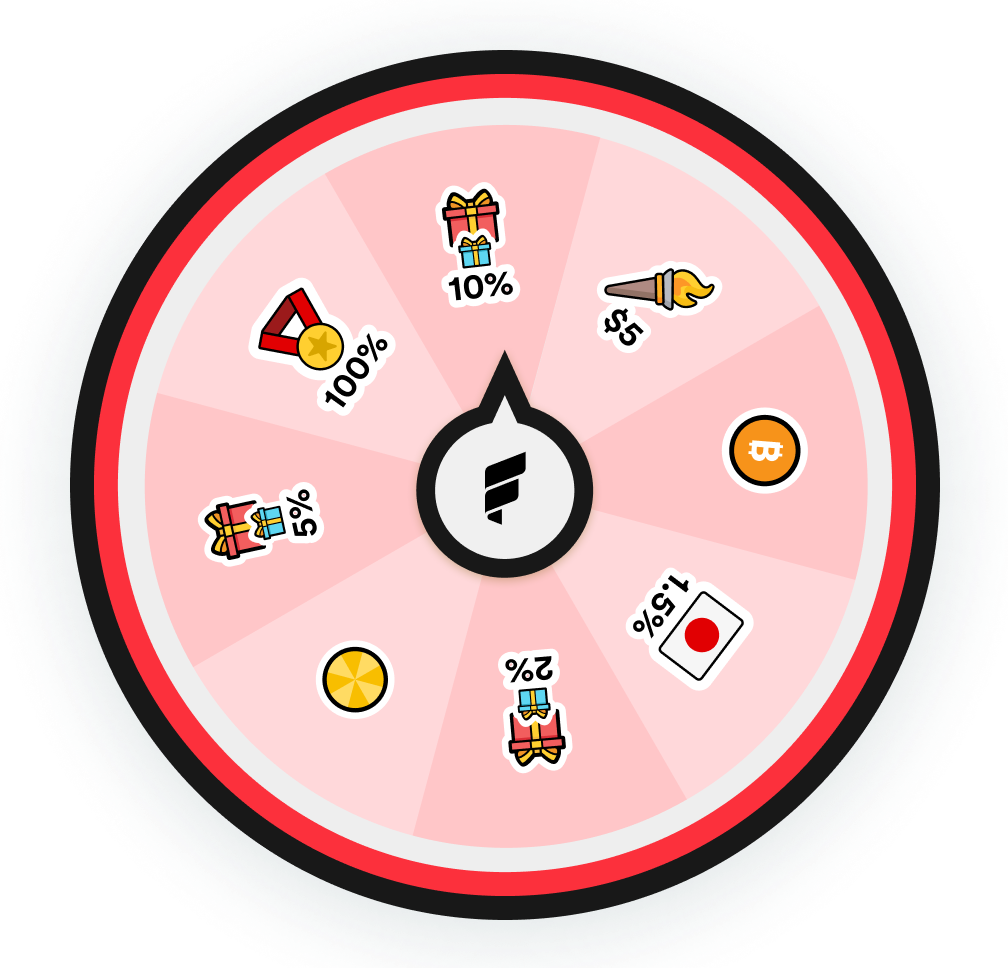 Go big or go home
OK: earning a minimum 0.5% back for every purchase on the Uncle Satoshi Wheel was – for a brief moment –  awesome, especially since it enabled us to raise the odds on earning 2% sats back. However, we soon heard (again, and again, and again) that the floor needed a complete remodel. So we got to work.
This wheel pays out big when you spend big. Here's how we made that happen:
• Removed high probability of earning 0.5% back (thank you, next)
• Beefed up chances of earning 1.5% back on every purchase (almost 1 in 3)
• Brought back our old friend Over/Under $5
• Introduced Over/Under % prizes which specifically reward large transactions ($100, $250, $500), and gave them great odds: 1 in 5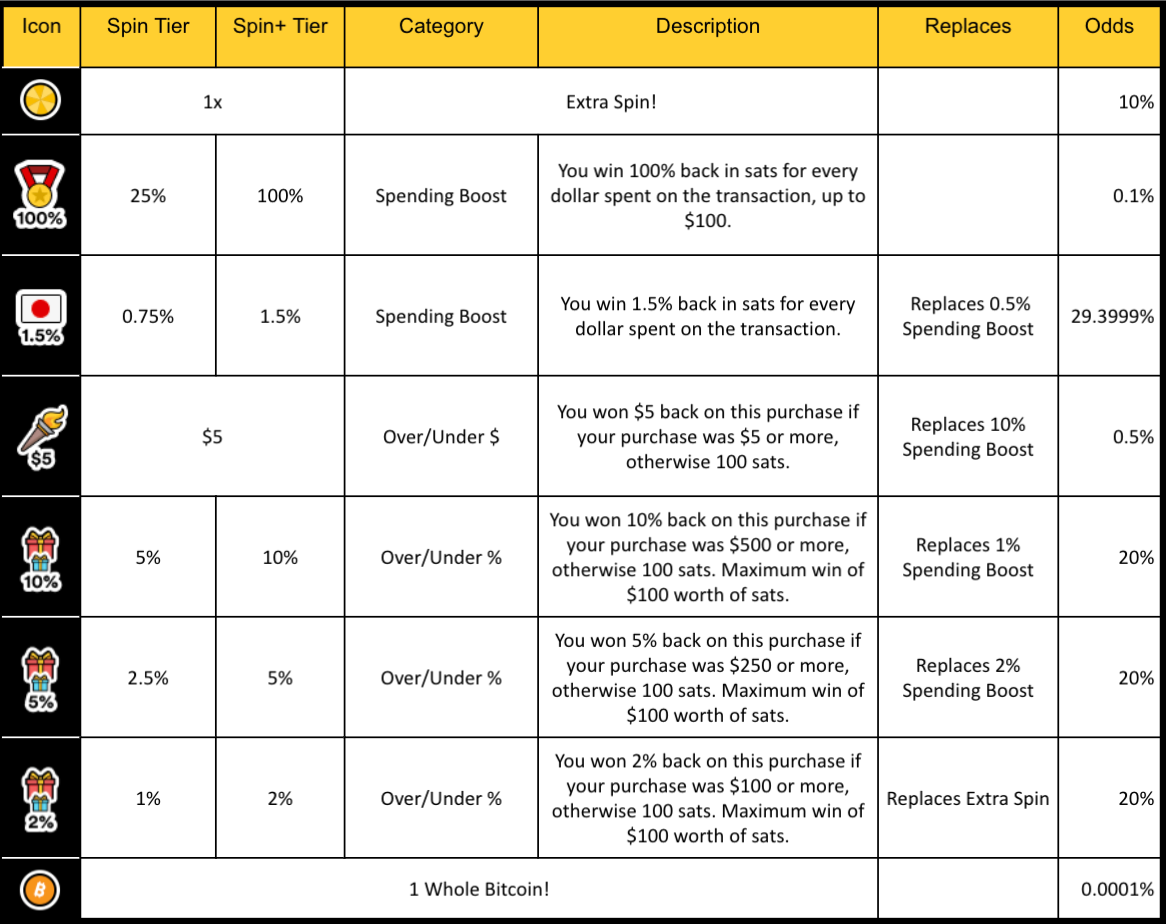 These spins STACK
For the next two weeks, focus on earning and saving extra spins so you have increased chances to win big on your big purchases.
Pro tip: Spend at least $1000 and have an ~89% chance of earning at least 1.5% back, plus earn an extra spin for spending over $250 on the purchase which you use to spin again for another 60% chance to get at least 2% back.
💡Reminder: you can also stack spins when you save & spend. Get spins every day your balance is greater than $1,000, and every time you make a purchase over $250.
Here are some spins to get you started...
Our gracious Lord Pleb (@Bitcoinclaat) has decreed that 5 is the number of spins that we should drop with the new wheel, so 5 it shall be. Thanks, boss!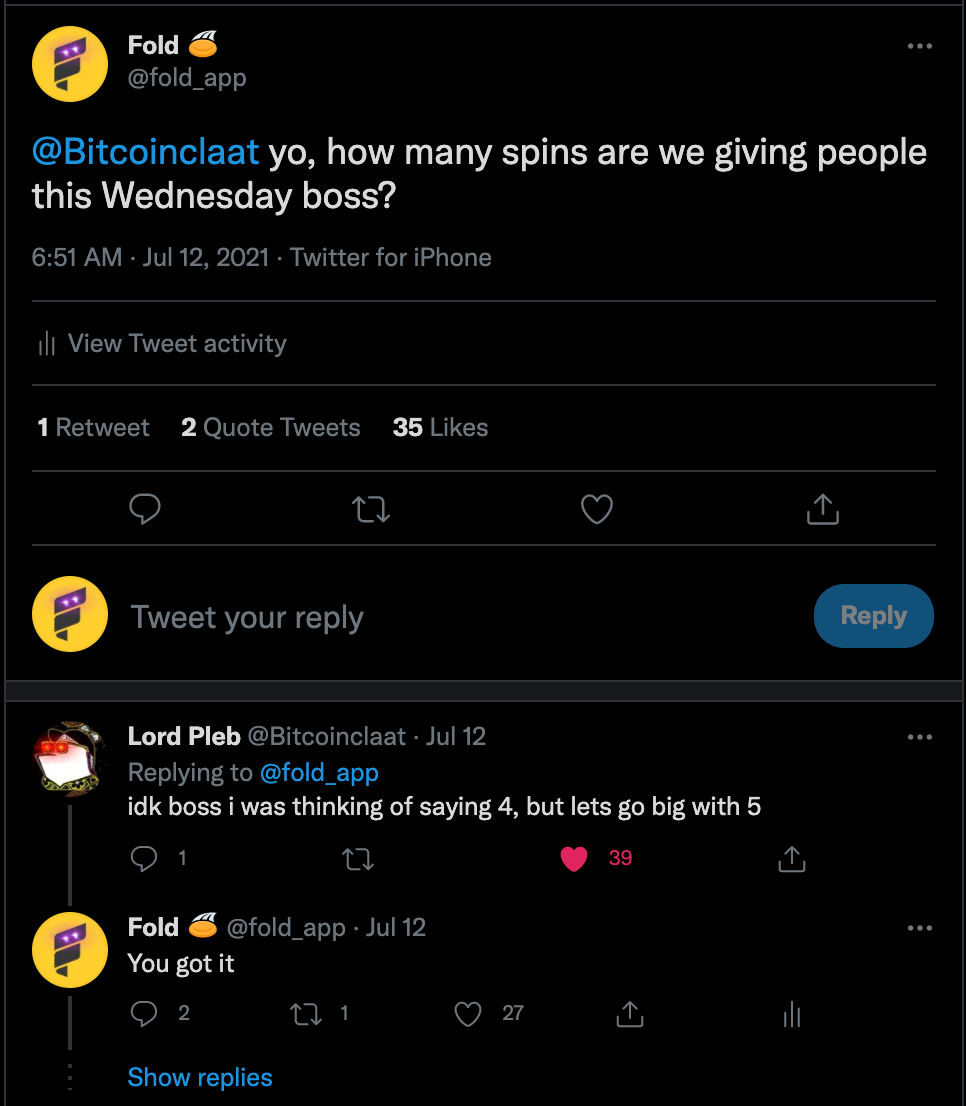 Oh by the way... new Referral Program? 👀
Cat's out of the bag and it's looking to wreak some havoc tomorrow. We usually announce these things on Twitter, right?
---
How would you rate this week's spinwheel? Great 🎉 • Meh 😑 • No Good 👎
New to the Fold Card? Start here.
Updates
Want to get updates when a new purchase wheel is available? Follow along here on our blog, on Twitter, or join our Discord community.
Standard disclaimer:
This is just a summary. The purchase wheel is currently only available to Fold Cardholders. The wheel is available for spinning after each purchase made with the Fold Card (currently excluding ACH), subject to certain exclusions.
For full terms and conditions, see Terms of Spinwheel Sweepstakes. You can read about each of our spinwheel prizes from the current and prior wheels.