Available to Fold Cardholders April 22— May 5, 2021
New Ways to Win Extra Spins = New Wheel
When we launched Extra Spins several weeks ago, Hillary teased in our "Extra Spins are Now Available" post, that there were two ways to win spins, with mysterious others on the way.
Well our newest ways to win extra spins is here. And they couldn't be easier.
💰Balance Spins
Every day starting at 11am ET (that's right, every single day) if you have:
$1,000-$9,999 in your account, you earn 1 extra spin.
$10,000+ available in your account, you earn 2 extra spins.
The only catch — the funds have to be settled funds, not pending funds. That's it!
💸Large Purchase Spins
Every time you make a purchase of $250 or more, you get an extra spin.
NOTE: The Large Purchase Extra Spin is added to your account 2 minutes after the purchase, to make sure the transaction is valid and to ensure that you see the notification.
➕Do the Math
Well, I'm no math genius like all those smarty dudes up in DC,** but I can tell you that any Premium User can now earn:
2 Extra Spins on the Wheel Drop
3 Extra Spins each Friday
14 Extra Spins for having a balance of $10,000
= 19 Extra Spins in a week — before even making a purchase!
---
This Weeks Wheel: Simpler & Scalable
We've added more prizes that scale with your purchase size, taking the place of incentive based prizes like "Balance Match".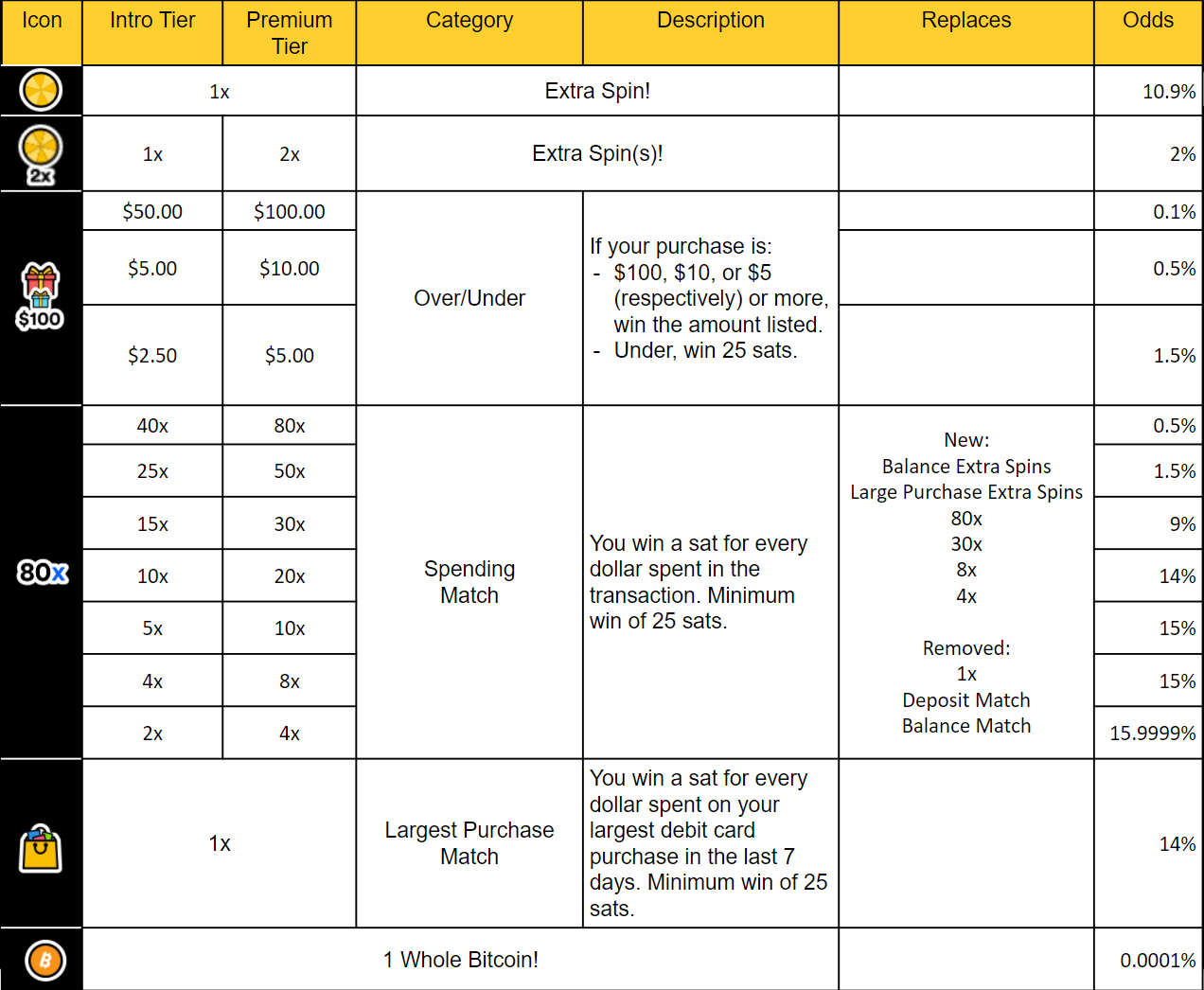 Change #1: More $5 Over/Under
We increased the odds of the $5 Over/Under, because you seem to love it so much!

Change #2: Goodbye Deposit and Balance Match
These become redundant with the Large Balance Extra Spins, so they have been removed and replaced with prizes that scale with large purchases.
Change #3: Goodbye 1x and 75x, hello 4x, 8x, 30x, and 80x Purchase Match
You like getting sats on purchases? Me too! The wheel now has an almost 71% chance that you will land on a reward that scales with the size of the purchase.
Between the Purchases Matches and the Extra Spins you can earn, we're very optimistic that you should feel confident making large purchases on our card. As you will recall, that was the largest criticism we faced in our early days.
---
How would you rate this week's spinwheel?
---
Updates: Want to get updates when a new purchase wheel is available? Follow along here on Medium, on Twitter, or in our Discord community (wheel updates post in ✨spinwheel-updates).
Standard disclaimer: This is just a summary. The purchase wheel is currently only available to Fold Cardholders. The wheel is available for spinning after each purchase made with the Fold Card (currently excluding ACH), subject to certain exclusions.
For full terms and conditions, see Terms of Spinwheel Sweepstakes . You can read about each of our spinwheel prizes from the current and prior wheels.
---
Footnote:
** Hillary tells me I get at most two gif's per post. That's fine, I guess. So hat tip to you if you recognize the quote from the Hot Country Knights' hit "The USA Begins with Us". If you do, you know that "division is the exact same thing as subtraction, am I right!"