Wednesday, January 27, 2021 — Wednesday, February 9, 2021
New Prize. New Spin Limit. Updates to Amazon Gift Cards. Keep reading to see what's new this week!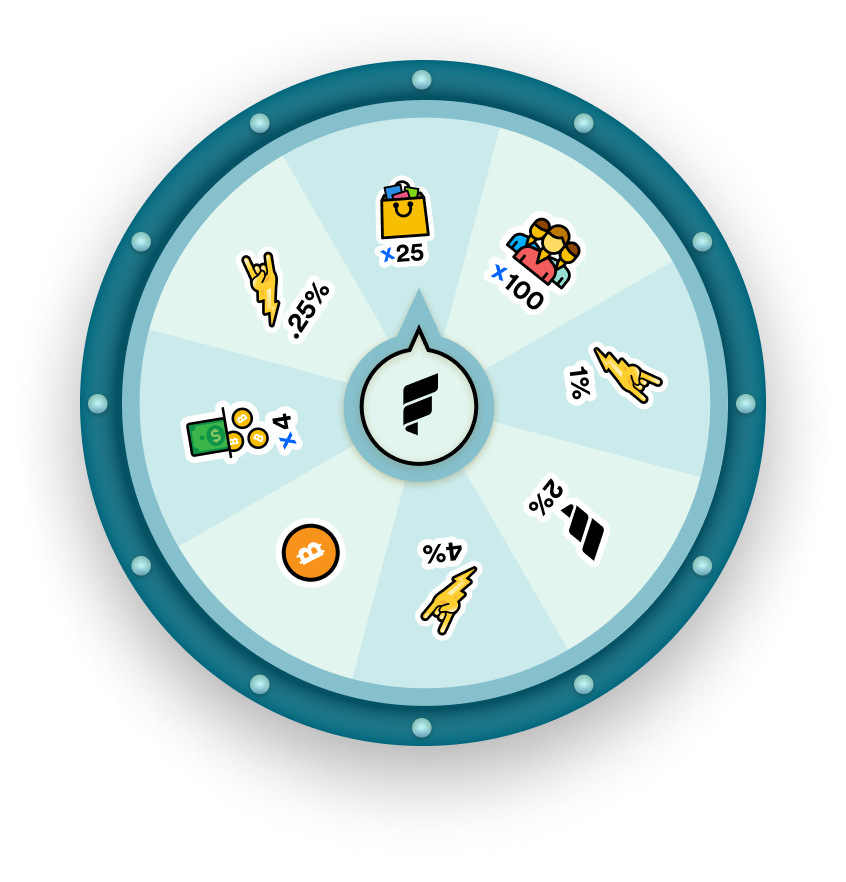 Largest Purchase Match: We hear you that you want to be incentivized for large purchases. The largest purchase aims to do just that. The match is a 25x match on your largest purchase in the last three days [for the curious, that's measured as the last 72 hours from your purchase].
For even relatively everyday purchases, say $50, that gives you a nice reward of 1,250 sats. Make a $500 purchase, and that's a 12,500 sats. A $1,000 purchase (the maximum on this prize) is 25,000 sats!
The good news is there's no over/under requirement on this prize, so you're eligible to win on any qualifying purchase in the next 3 days.
We think you'll like this new prize, but let us know what you think in the survey below.
New Limits: To ensure the wheel is fair for our users, we are implementing a new limit. You can now earn a spin on the wheel a maximum of 7 times in a 24 hour period. Our data tells us that virtually all of our users have less than 7 eligible purchases a day. That limit helps us ensure that we can keep giving great prizes to everyone.
Gift Card Boost: Now that inventory is back, gift cards boosts are back also! Thank you for being patient with us while we resolved our inventory issues.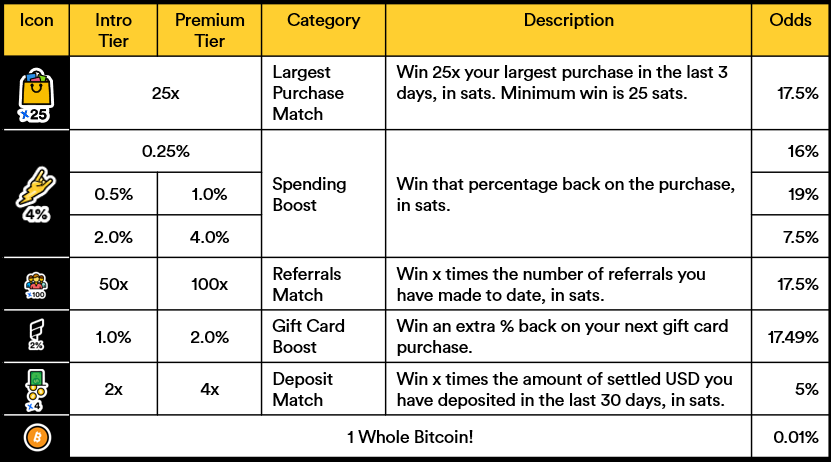 A Note About Deposit Match: We are leaving deposit match on the wheel at 4x for now, but reducing the odds. Why?
When we launched 4x deposit match almost two months ago, funding was very difficult and people were still kicking the tires on Fold. Now, most of the funding problems have been resolved, and most users are fully funding their card.
In order to keep the other wedges of the wheel generous, we either needed to reduce the odds or the size of the deposit match. We decided to reduce the odds and keep the generous match. We've seen and love the tweets about +600% back on some purchases.
To make this prize more generous for everyone, we also reduced the maximum from $10,000 of deposits to $5,000 of deposits. We hope this strikes the right balance for this prize.
Do you agree? Let us know in the survey below.
Amazon Gift Cards: We hope you enjoyed the unlimited 5% off Amazon Cards. We wanted you to enjoy that as a thank you for helping us build and launch, and for putting up with the bumps and bruises along the way.
Now its time to implement the limits that were advertised when you signed up. Starting today Fold Card holders will see a separate Amazon listing in the app that is 5% off. Intro users can buy $250 per month of 5% discount cards and Premium users will be able to purchase $500 per month of 5% discounts cards.
After that, everyone will be able to buy unlimited amounts of Amazon cards at our standard rate, which is currently 1.5%.
We recognize there are still bumps to iron out while we exit early access. That's why all of our other fees are still waived during early access.