Available to Fold Cardholders March 10 — March 24, 2021
This week's wheel wants you to do two things:
EARN EXTRA SPINS!!!
USE EXTRA SPINS!!!
Are you a cautious spinner? Or do you #SpinSmash like I do? This Wheel, you can find out.
---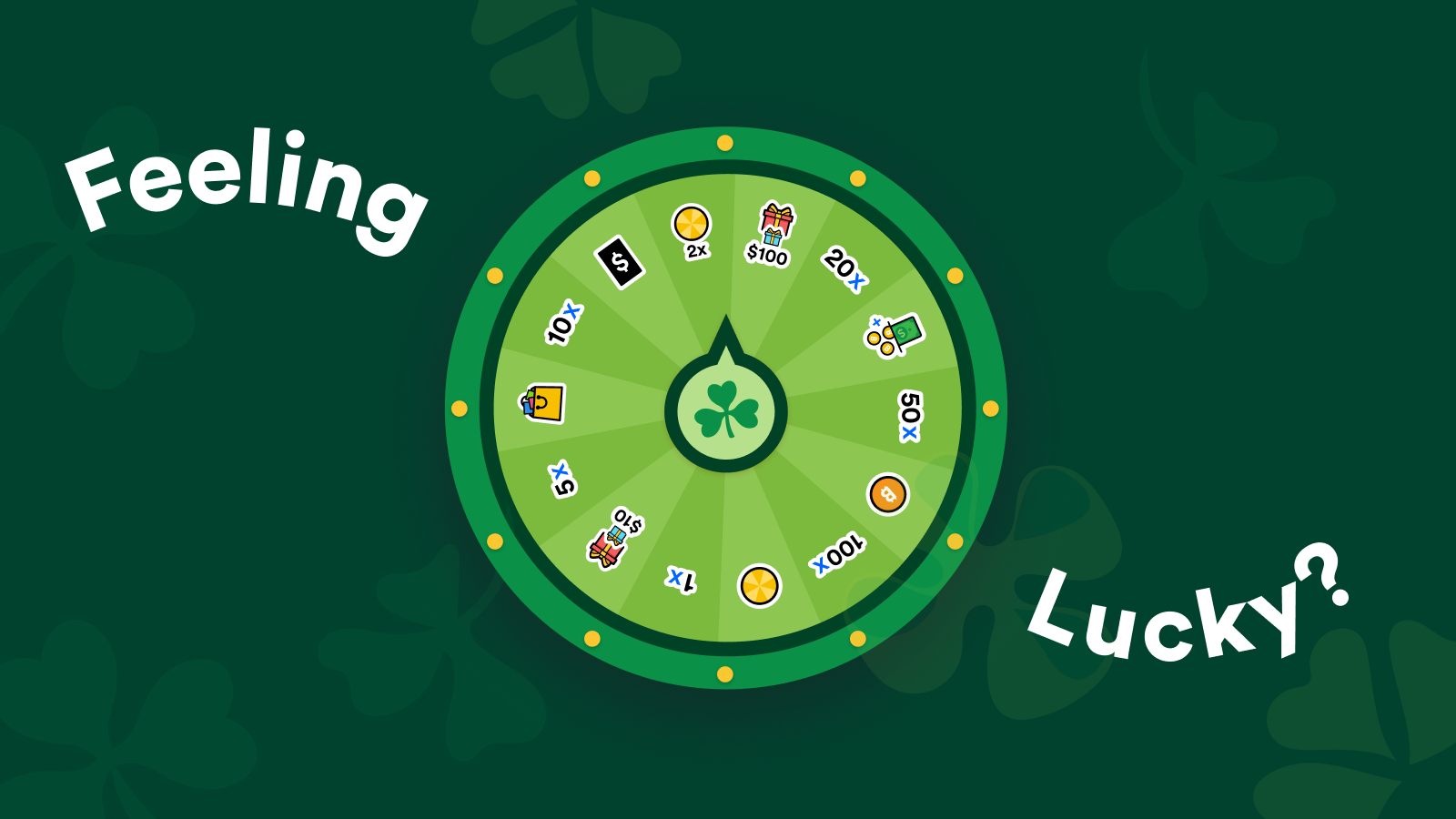 As a result, this wheel looks different than our previous wheels. Let's walk through the changes.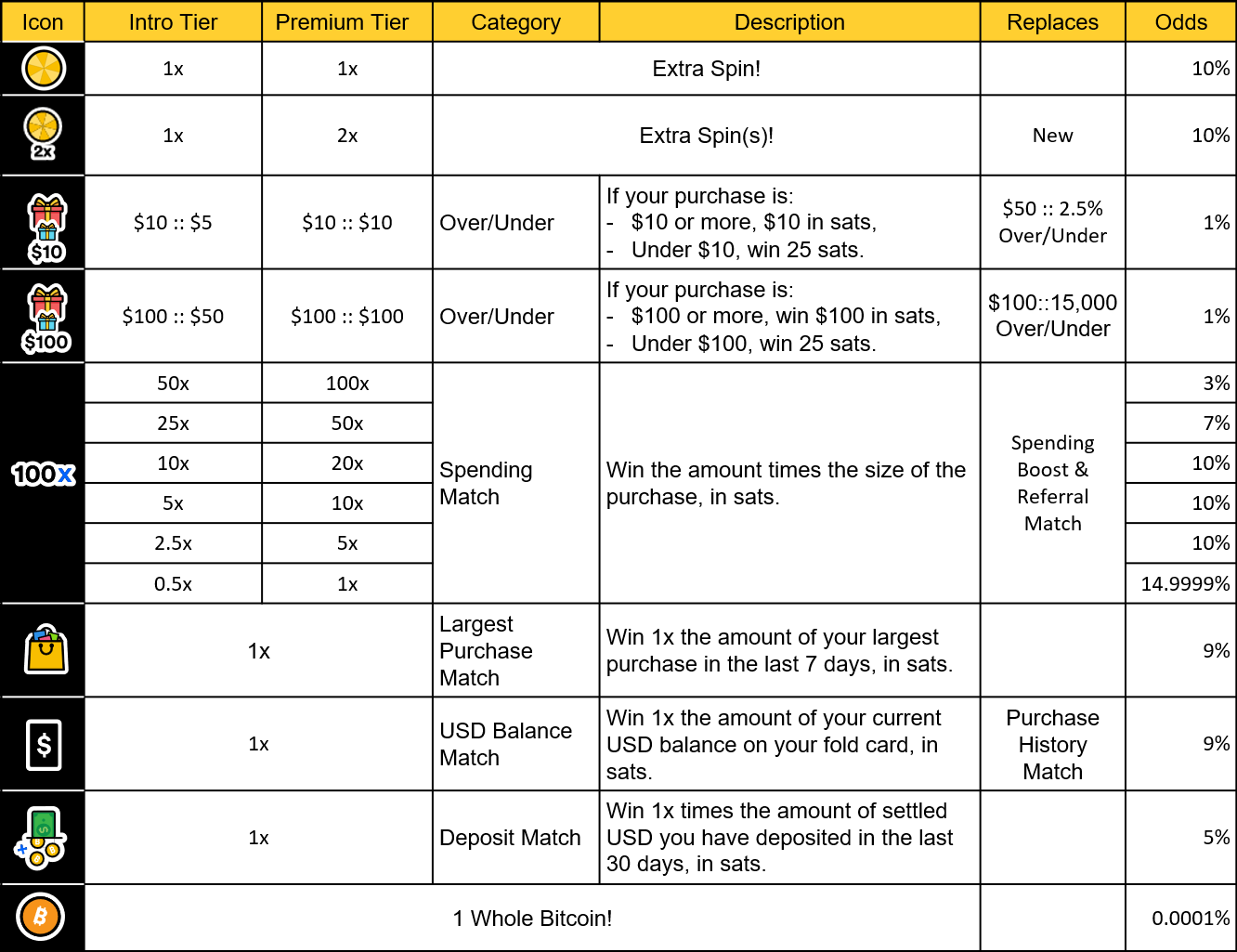 More Extra Spins.

I don't own a Lambo. But if I did, I wouldn't leave it in the garage. I'd see what it could do!
Same thing with Extra Spins. The team's not going to build this great feature and just let it sit there. We're going to put it through its paces, and almost — but hopefully not — crash it on the freeway. Amiright?
So we're going crazy. Not only is there the 10% chance to win from last wheel. But now there's a 10% chance to win 2x Extra Spins.
We will almost certainly rein those Extra Spins in next wheel. So go nuts.
Bigger, Simpler Over/Unders.
We address two pieces of user feedback with our new Over/Unders:
The prior Over/Unders were confusing.
More than 80% of you said you prefer more, smaller wins instead of 1 BTC. (More on that at the bottom.)
In response, please meet our new Over/Unders. They are larger and simpler.
A purchase of $10 or more and you win $10 in sats.
A purchase of $100 or more and you win $100 in sats.
More Wedges

Getting all these extra spins isn't fun if you don't have enough fun prizes to land on. So we went crazy and increased the number of wedges from 10 → 14. Did I say YOLO?
USD Savings Match
To celebrate that you can now deposit $20,000 in your Fold account, we're reintroducing the Savings Match.
Deposit Match — Smaller Match But Increased Cap
Put down the pitchforks for one second and hear me out!
We did decrease the match from 4x to 1x. That feels steep. But to compensate we increased the cap 4x to $20,000 in deposits from $5,000 in deposits. So the prize is the same for those who fund the card.
Three reasons for the change:
Let's be honest. We moved some of the reward out of Deposit Match to make the other prizes — like the Over/Unders — more generous.
We wanted the Savings Match and Deposit Match to have the same caps, to reward users who fully fund their card.
We wanted the Deposit/Balance/Purchase matches to all have the same multiplier, to make the wheel easier to understand for new users.
Expect a poll on Discord on this one. We will want to know your feedback here.
More Prizes that Scale
The second largest ask in our survey data was "more prizes that scale". By adding additional Sats Match prizes, we are able to do that for you.
Referral Match Takes a Break
The Referral Match has been a day 1 wheel fixture. But its going to take a break for a little bit until we roll out our new referral program. Stay tuned.
Reduced Bitcoin Odds
To make room for the $10 and $100 Over/Unders, we've reduced the odds of winning 1BTC. We know you'll have strong opinions here.
Based on the survey data, this was a strongly popular move. Now that we've changed it, how do you feel? Definitely let us know your feedback.
How would you rate this week's spinwheel?
---
Updates: Want to get updates when a new purchase wheel is available? Follow along here on Medium, on Twitter, or in our Discord community (wheel updates post in ✨spinwheel-updates).
Standard disclaimer: This is just a summary. The purchase wheel is currently only available to Fold Cardholders. The wheel is available for spinning after each purchase made with the Fold Card (currently excluding ACH), subject to certain exclusions.
For full terms and conditions, see Terms of Spinwheel Sweepstakes . You can read about each of our spinwheel prizes from the current and prior wheels.
🐣 This is your Easter egg for those who read the whole post.
We'll be sharing an update on the card program tomorrow (March 11). Check back here on Medium for a big update on what's next for closing out Early Access for the Fold Card (timing on when we're paying out the $50 BTC bonus, spin timer updates, and more).