Available to all Fold Cardholders December 8th, 2021 - January 6th, 2022
tl;dr
So long, base rate!
The last few Base Rate Plus wheels certainly had their ups and downs...
Ups
We saw a lot of the the now-famous quad stack... 1% base rate + 2% reward + 2% gift card boost + 5% gift card reward = 10% back in bitcoin, also known as joining #club10.
Downs
Digging into our wheel survey from the last couple of months has produced one common theme:
We want more variability with our spins.
Solutions
It became clear that where we go from here required two major adjustments:
Ditch the base rewards to bring back the fun and variability.
Revamp the Spin/Spin+ tier program (more coming on this very soon)
One (fun) wheel to rule them all
By removing the base rate rewards system we were able to reintroduce (by popular demand) better chances at higher rewards. More risk and more variability.
The other major change that we're rolling out with the Holiday Spin wheel is this: there's only one wheel. Big things must be coming concerning Spin and Spin+ tiers to make this change make sense... so stay tuned!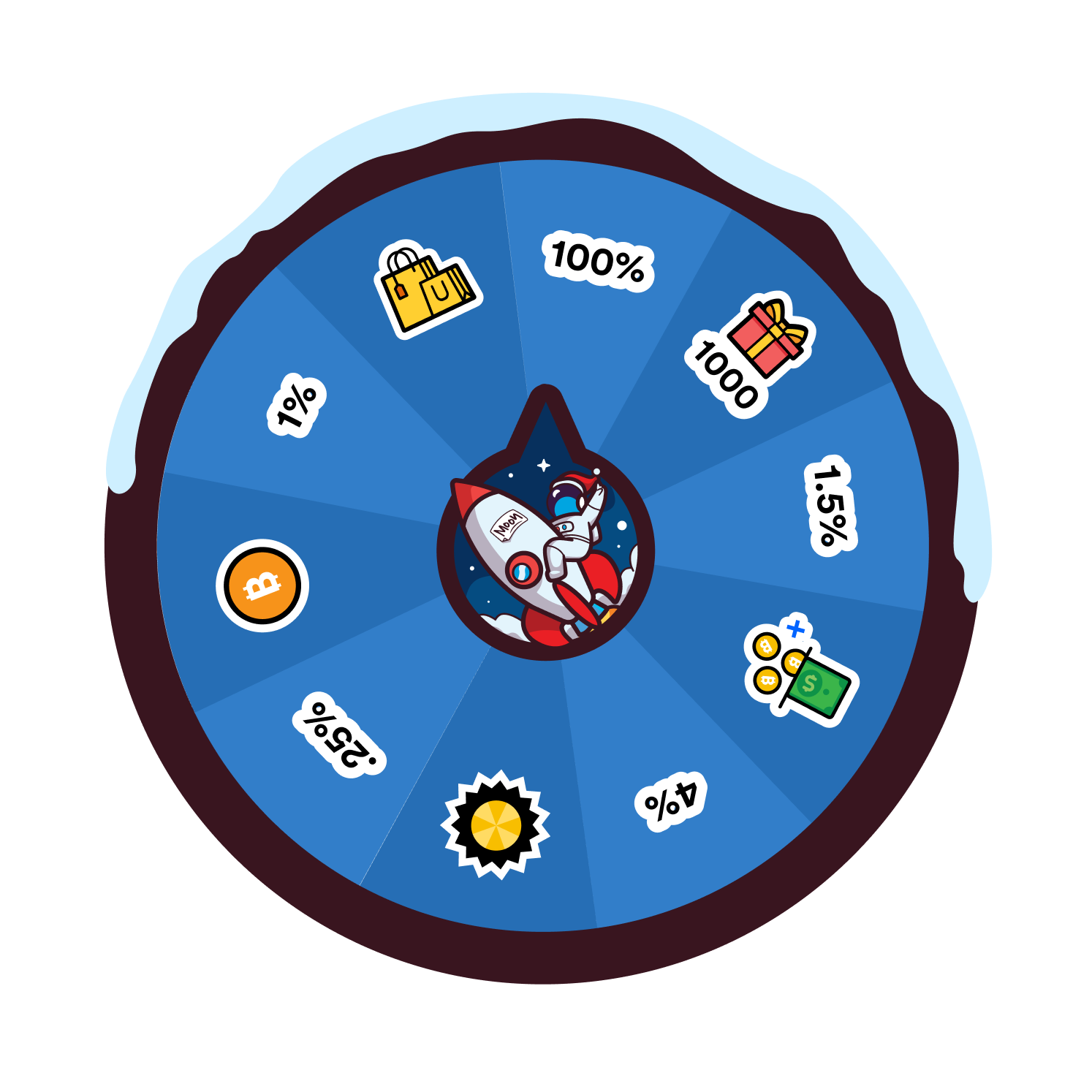 Wheel ch-ch-changes
The Holiday Spin wheel is the result of both taking our community feedback into account and setting the stage for big things to come... Here are the results of that approach:
One wheel for both Spin and Spin+ (something big must be coming... 🤔)
removed base rate rewards ( ⬆️ the fun)
reduced number of wedges ( ⬇️ the complexity)
removed over/under prizes and gift card spending boost
increased 4% rewards odds to 5% chance
added straight 1k sat reward
Odds and prizes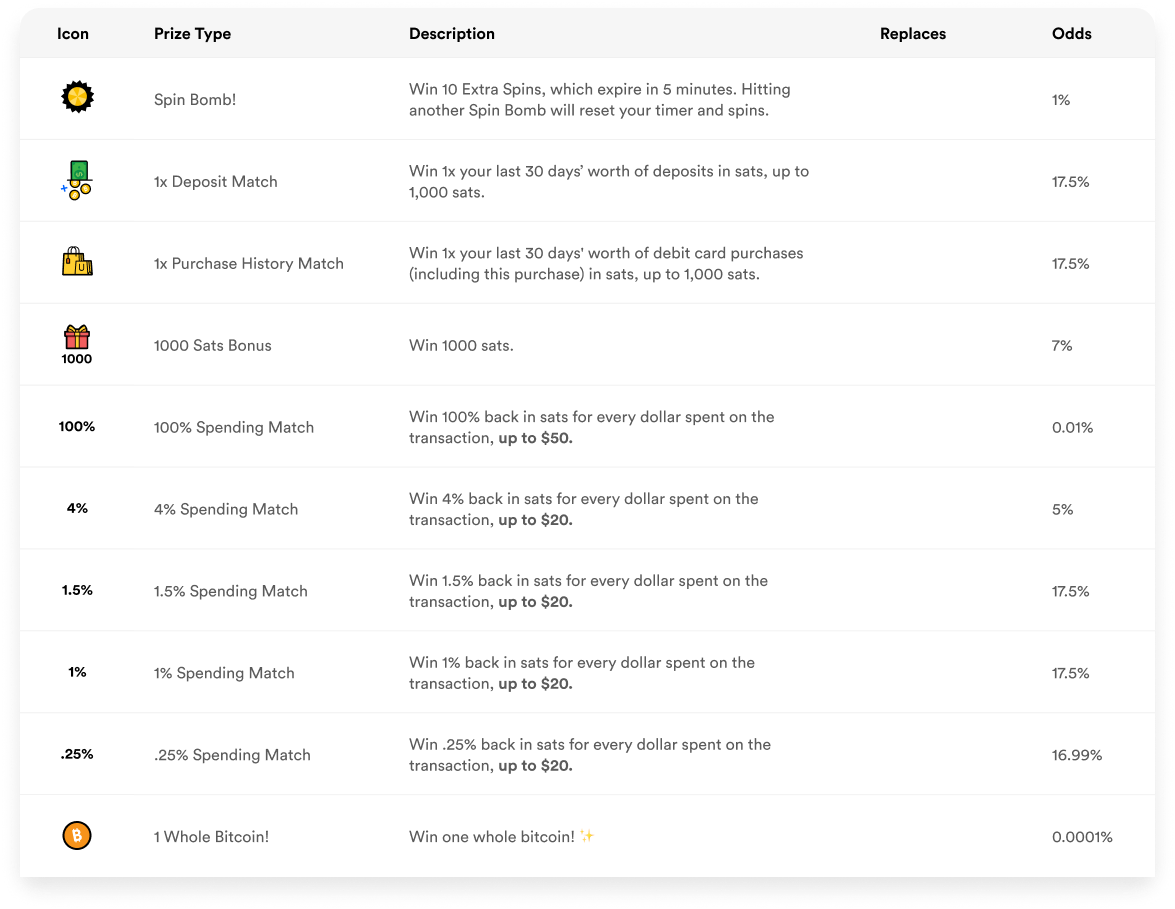 So how do I win?
Well... as usual, spins still reign supreme. And the best ways to earn extra spins are:
Keeping $1k+ in your Fold account earns 1 extra spin per day
Keeping $10k+ in your Fold account earns you 2 extra spins per day
Land on the Spin Bomb! reward
Collect spins by playing in Fold's AR metaverse!
Introducing: the ⚡ Flash Stack ⚡
We recently introduced what has quickly become one of our favorite and most fun experiments: the Flash Stack.
How it works: During the day, we will tweet out (and sometimes send push notifications) "⚡ Flash Stack ⚡" which lets our Fold cardholders know that if they spend $x with their Fold Card then they earn x amount of sats. So, on top of already earned rewards, we're dolling out even more sats. It's sats all the way down.
As its name suggests, there will not be much warning for these, so if you want to participate, be sure to turn on your Twitter notifications for @fold_app so you don't miss the next #flashstack.

Fold Holiday Weekly Giveaways
The holidays can be rough (and expensive), so we decided that the best way we could help ease the pain was to add another way for 0ur cardholders to earn bitcoin through their every day spending.
How it works: the more you spend, the better chances you have to win a lot of sats.
The weekly giveaways run from Friday - Thursday, and winners are contacted via email.
Move the needle
So how are things going? We factor in your feedback as we build out each wheel. What did you think of this one?
---
Welcome
New to the Fold Card? Start here.
Updates
Want to get updates when a new purchase wheel is available? Follow along here on our blog, on Twitter, or join our Discord community.
Standard disclaimer:
This is just a summary. The purchase wheel is currently only available to Fold Cardholders. The wheel is available for spinning after each purchase made with the Fold Card (currently excluding ACH), subject to certain exclusions.
For full terms and conditions, see Terms of Spinwheel Sweepstakes. You can read about each of our spinwheel prizes from the current and prior wheels.