Available to Fold Cardholders September 30th - November 24th, 2021
Want the TL;DR? Jump to the updated odds and prizes
October 27th - November 24th update:
It's all about that base
We've got some big things in the works (AR, no fee debit card, lightning withdrawals, etc...). And, we've been impressed with the strategic stacking that we've seen on top of the base rate reward:
So, to keep it simple and continue improving upon what works (and reducing what doesn't), we're revamping the Base Rate Plus wheel and extending it for another month.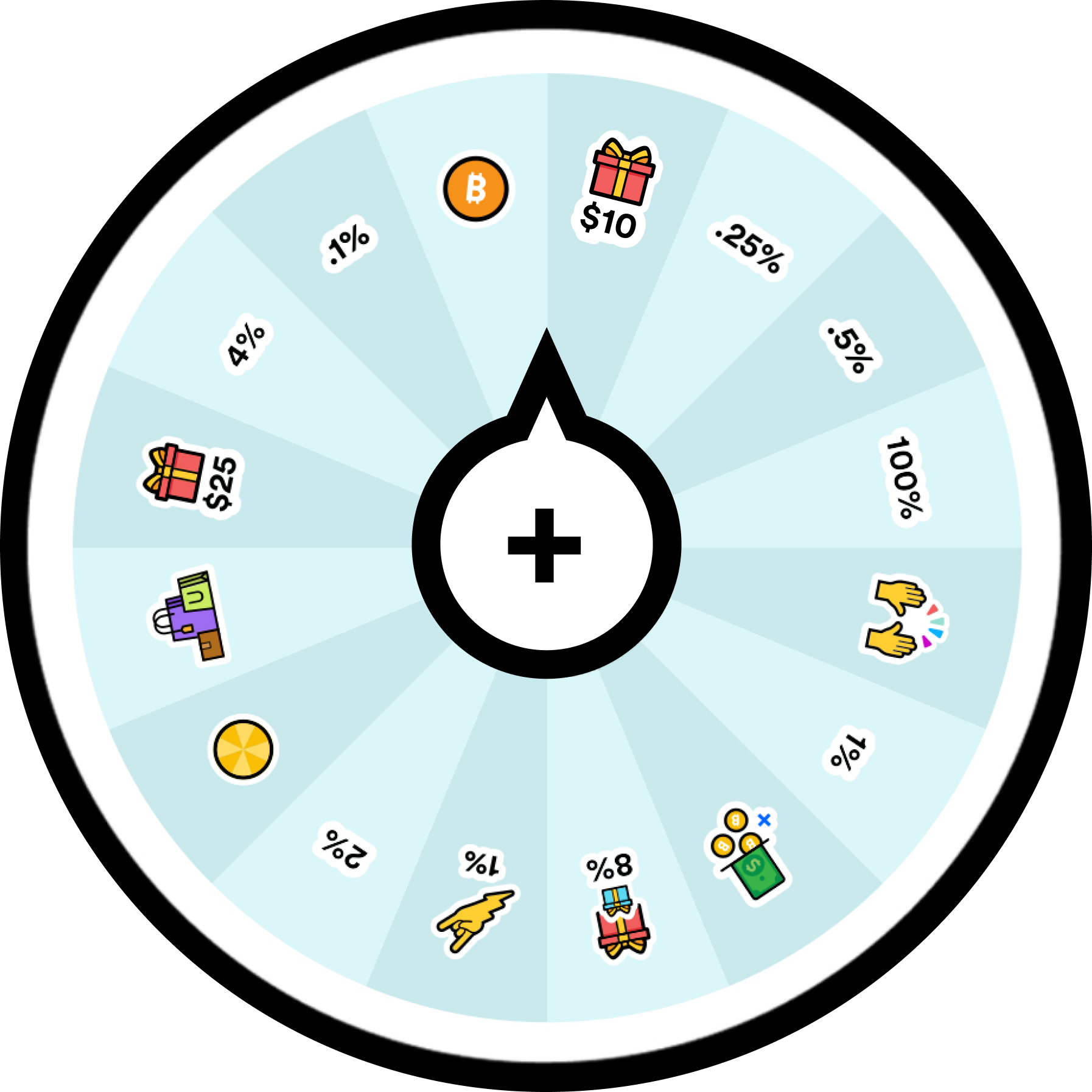 More risk, more reward
1% base rate for Spin+, 0.25% base rate for Spin
We stayed focused on a base rate for now, but based on some of the feedback we received, we also added more variability to the wheel. The result is a lower chance that you'll hit the 'Base Rate' prize and an increased chance to hit bigger wins on all the purchase sizes.
Here's what we changed:
LOWERED the odds for 'Base Rate' wedge
ADDED a 0.1% Wedge
INCREASED chances of getting 2% or more
INCREASED O/U reward from 2.5% to 8%
ADDED Deposit Match
ADDED a couple of Flat Sat wedges
Of course, it's always a give and take when balancing the wheel, so we also:
LOWERED the cap on the Purchase (and Deposit) Match
LOWERED the chance of landing on 3 Extra Spins
Updated Odds and Prizes
On top of 1% base rate for Spin+ and 0.25% base rate for Spin, you can earn: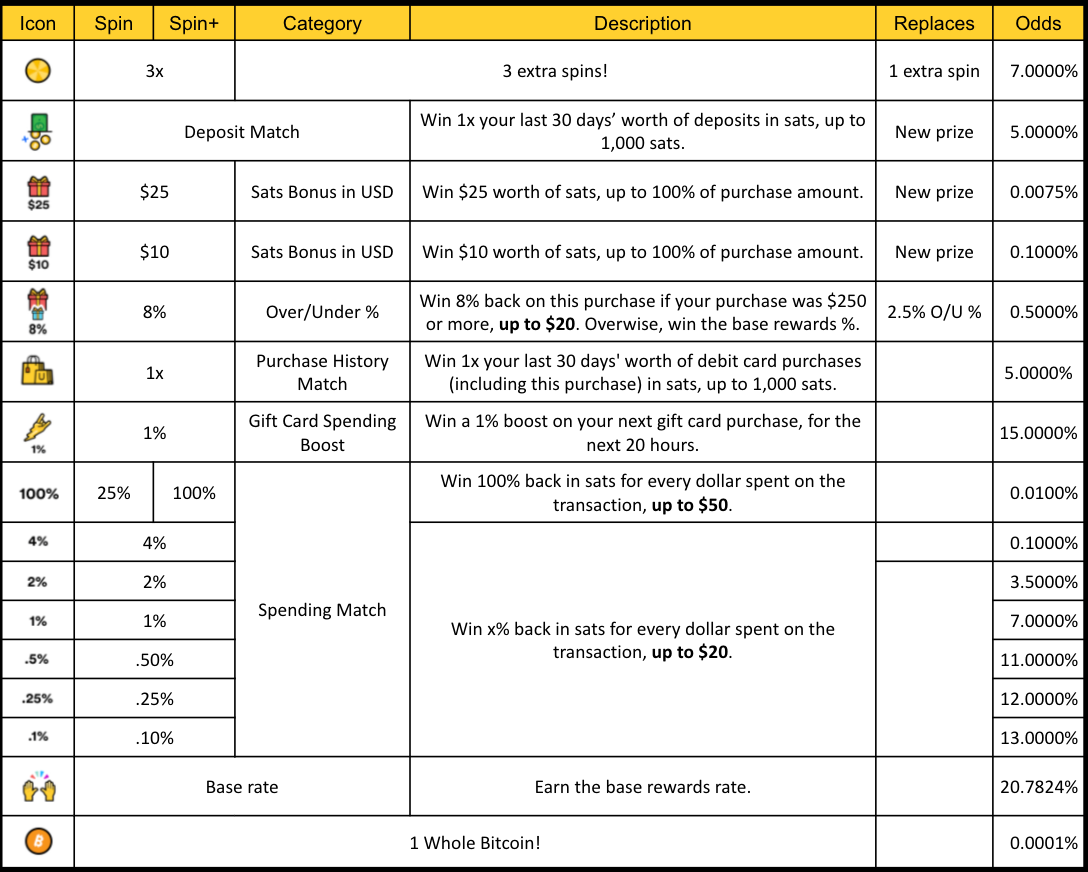 Move the needle
We factor in your feedback as we build out each wheel. What did you think of this one?
---
Want the TL;DR? Jump to the odds and prizes summary
Taking your feedback for a spin
As with everything we do, this wheel is an experiment that is based on what we've heard from you. We stay constantly engaged with our community so we can build what you want to see, and also source your great ideas (just like this headline; thanks punter).
The Lightning Spin wheel taught us that winning 100% back remains amazing:
And that stacking boosts is the ultimate sat stacking strategy:
Amidst the positive feedback, we've also consistently heard two complaints:
variable rewards are not for everyone
it's too difficult to average above 1% rewards
As we head into October and prepare to celebrate the anniversary of the Bitcoin Whitepaper's publication, we decided that now was the time to address those concerns.
Win on every spin
For the next month, every time you spin the Base Rate Plus wheel you are activating your base reward and getting a chance to earn even more sats and boosts!
Here's how it works:
Spin+ users earn a base 1% on EVERY purchase PLUS any rewards from the Spin+ wheel, up to 100% back (or a whole BTC).
Spin users earn a base 0.25% on EVERY purchase PLUS any rewards from the Spin wheel, up to 25% back (or a whole BTC).
So, what does it mean for Bitcoin when you stack sats on every purchase with your Fold Card?
Probably nothing.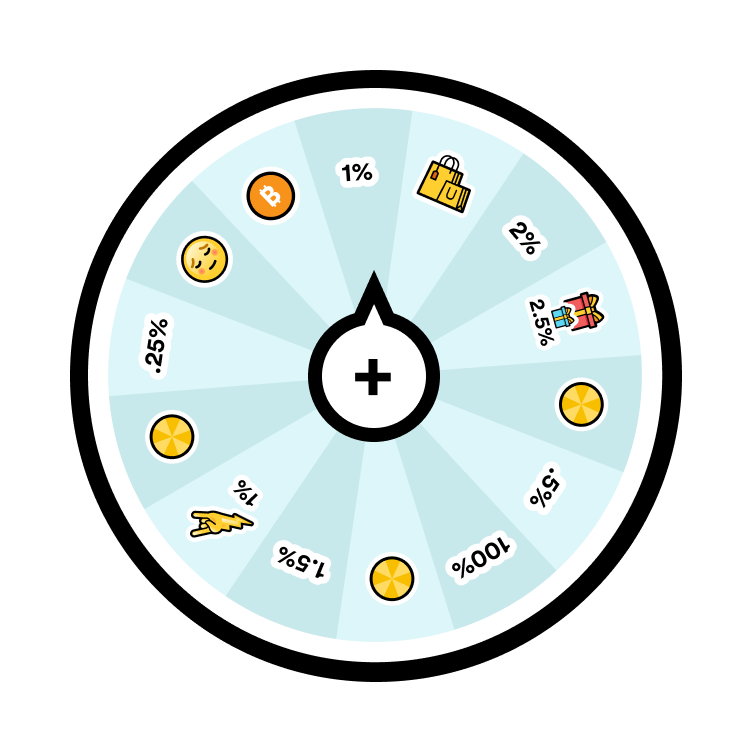 Less Risk, More Sats
On top of the base rewards that you'll earn from spinning the wheel after every purchase (1% for Spin+, 0.25% for Spin), here's what else has changed:
A simplier experience: reduced number of wedges and matched all rewards (except 1) across Spin+ and Spin
10% chance to earn 3 extra spins instead of 1 (for both Spin+ and Spin)
Reduced Over/Under % from 4%/8% to 2.5% (on top of your base rewards)
Added Purchase History Match (rewards your consistency)
Added Gift Card Spending Boost (rewards your boost stacking strategy)
Added Womp Womp (30% chance to earn only your base reward; save those extra spins!)
Odds and Prizes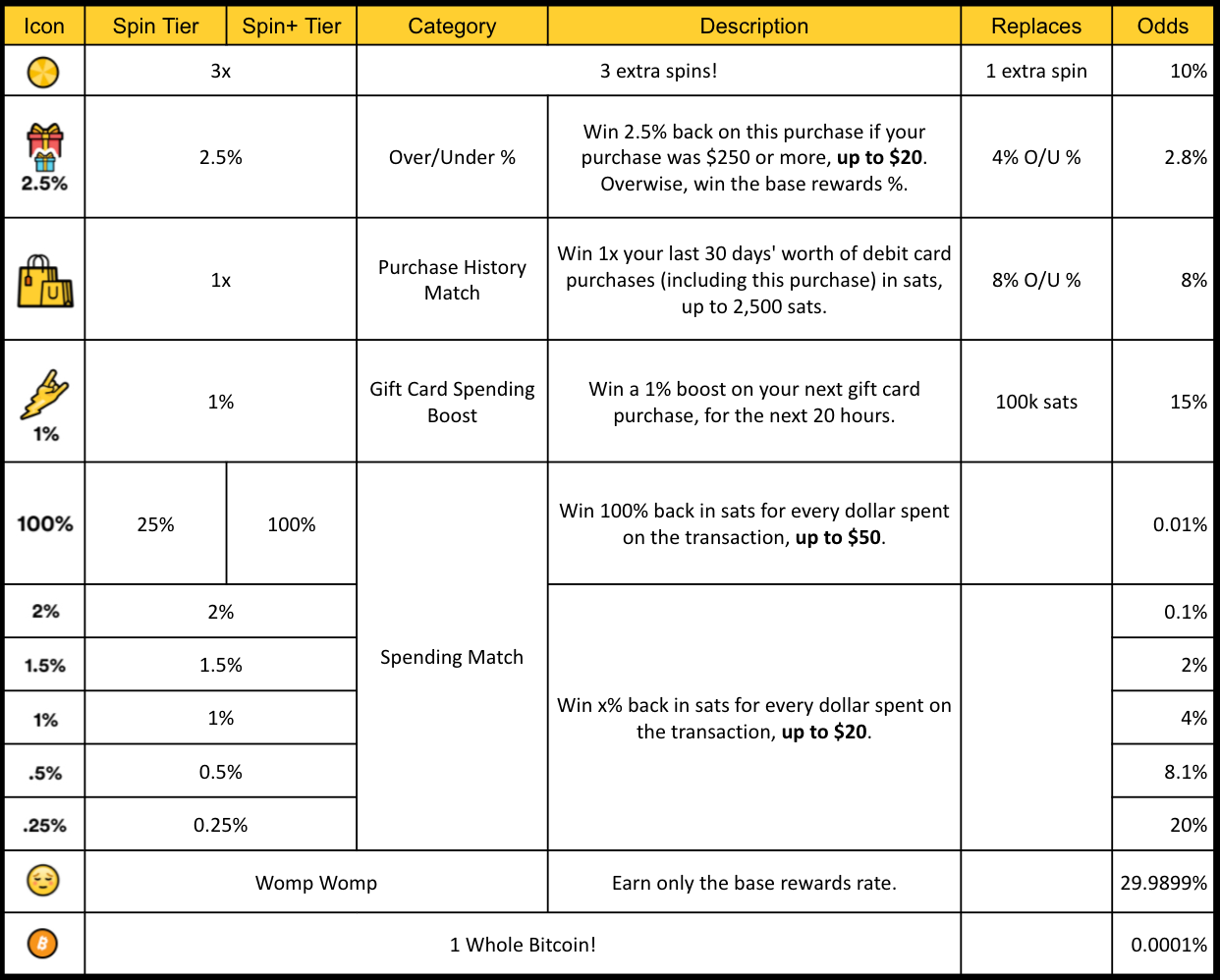 Stack those spins
This wheel gives you a 10% chance to earn 3 extra spins on every purchase; save those for your big purchases!
💡Reminder: you can also stack spins when you save & spend. Get spins every day your balance is greater than $1,000, and every time you make a purchase over $250.
❗Note: if you choose to use an extra spin on a purchase you made on the Lightning Wheel, you will not earn the base reward rate. You will only get the reward from the spin.
❗❗Update: We made a change! ALL spins performed after the new wheel went live will earn the base reward rate, which will be automatically be added to your account on Friday, October 1st.
Give $25 & get $25 to 🍊💊 referrals to Fold
The limited-time referral program was such a smash hit that we decided it should stay. Check out how you give and get $25 when you orange pill your friends and family.
---
How would you rate this wheel? Great 🎉 • Meh 😑 • No Good 👎
New to the Fold Card? Start here.
Updates
Want to get updates when a new purchase wheel is available? Follow along here on our blog, on Twitter, or join our Discord community.
Standard disclaimer:
This is just a summary. The purchase wheel is currently only available to Fold Cardholders. The wheel is available for spinning after each purchase made with the Fold Card (currently excluding ACH), subject to certain exclusions.
For full terms and conditions, see Terms of Spinwheel Sweepstakes. You can read about each of our spinwheel prizes from the current and prior wheels.